Medium straw color; green apple, jasmine, white peach, lemon zest, flowers on the nose; green apple, white peach, apricot, lemon-lime, grapefruit, minerals on the palate.
Off-dry, approaching medium sweet. Excellent acidity (3.03 pH) balanced by the touch of sweetness from both hint of residual and delicious ripe fruit; 11.5% ABV.
Grapes come from vineyards throughout the Columbia Valley. Vines are planted on their own rootstock, helping maintain the health and longevity of the vineyards and preserving the grape variety in its natural state without the influence of grafted roots. All vineyards earn certified sustainable agriculture and enjoy salmon safe recognition; 100% riesling grapes.
People often think of Washington and rain, but the winemaking is done in the near-desert eastern part of the state. Lying beyond the rain shadow of the Cascade Mountains, the vineyards only get 6-8 inches of rainfall each year.
Chateau Ste. Michelle started as a hunting retreat and rural farm (called "Hollywood Farm") built by lumber baron Frederick Stimson. The wine operation started in 1954 as the "American Wine Company" after the merger of the the Pomerelle Wine Company and the National Wine Company. The National Wine Company was founded in 1934 and is the date Ste. Michelle claims for its founding. Today, Chateau Ste. Michelle is Washington's oldest and largest winery. It is owned by Altria, the company formerly known as Phillip Morris.
Chateau Ste. Michelle started in 1967. The original 1967 efforts were led by legendary winemaker Andre Tchelistcheff and the winery was called Ste. Michelle Vintners. When Ste. Michelle Vintners built a French style winery chateau in Woodinville in 1976, they changed the name to its present Chateau Ste. Michelle. Bob Bertheau is the winemaker at Chateau Ste. Michelle today.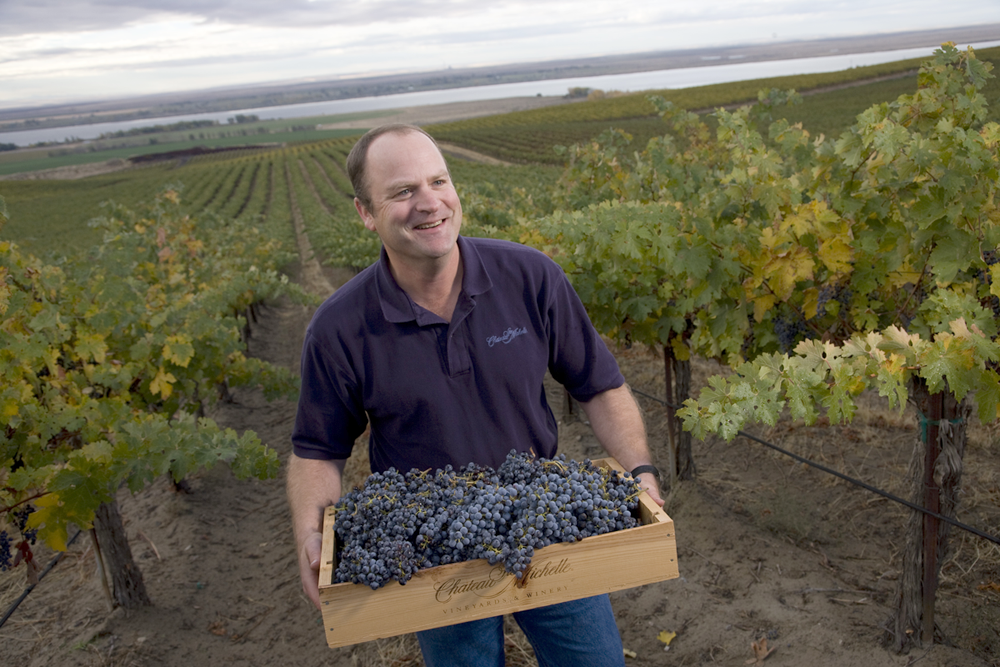 Chateau Ste. Michelle is one of the few premium wineries in the world that operates two wineries, one devoted to white wines and the other to red wines. White wines are made at the original chateau in Woodinville; reds are made at the Canoe Ridge Estate winery in Horse Heaven Hill AVA in Eastern Washington, at an historic site in Walla Walla.
Chateau Ste Michelle Riesling, Columbia Valley 2017 is extremely delicious, sleek, soft in the mouth with nicely balancing acidity. Vividly expressed fruit dominates. The wine is widely available—some million cases are made. It is very versatile; pair with spicy foods—Thai, Mexican; chicken burritos with black-bean salsa and pepper jack cheese; lemongrass-barbecued pork; crab balls with grapefruit salad; sautéed German sausages with bacon and apple sauerkraut; chicken; fresh fruit; garden salad and chicken Caesar salad; mild cheeses. Tremendous value. $7-11