Pale straw-gold color with hint of green; nectarine, fig, peach, green apple on the nose; orange, nectarine, honeydew melon, lemon, peach on the palate.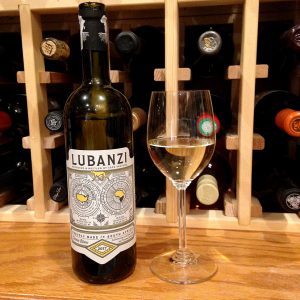 Dry, nearing off-dry; good acidity; zesty, bright; medium body with nice texture and creamy finish. No oak influence. Refreshing alternative to un-oaked chardonnay or New Zealand sauv blanc. Some layers of flavors, including bread on the finish if you let in linger in your mouth.
The wine is made by Cape Venture Wine, and thereby hangs a tale (and a tail). Walker Brown and Charles Brain were American exchange students in South Africa in 2014, Brown from University of Richmond, Brain from Vanderbilt. Together, they embarked on an adventure along South Africa's"Wild Coast"—a remote southern part of the country and birthplace of Nelson Mandela—for a week-long backpacking expedition. On the second day of the backpack trek they were joined by a wandering dog the locals named "Lubanzi." The dog followed them for six days and some 100 miles before he disappeared in the middle of the night before the last day of backpacking. The dog, obviously, inspired the brand name of this wine. Lubanzi also makes a red blend.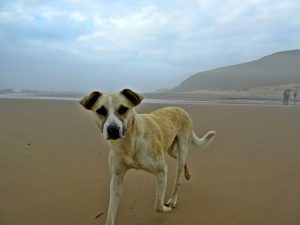 The Lubanzi website continues the story: "In the spirit of this adventure we returned to South Africa in 2016 endeavoring to launch a business that would connect people back home in America with a country and a people we had both been so struck by, and deliver some seriously top notch wines in the process."
Social responsibility was a core value in the effort, as the website explains: "We felt it necessary the business be an avenue to deliver real and meaningful social impact back to a country so deserving of that commitment. As things kicked off, we became enamored with the idea of a more complete and equitable supply chain, which is why we partnered with The Pebbles Project, a not for profit that provides health & education resources directly back to the families who live and work on South Africa's wine farms." Fifty percent of Cape Venture Wine Company's profits go to the Pebbles Project.
Brain told an interviewer: "South Africa is one of the world's largest wine producers and probably the most underrated wine region of the world in the US market, and has been for some time. We want to change that and we think our generation [millennials] has the openness and power to do so." Brown added: "Our goal is to offer well-crafted, everyday wine that punches above its weight and makes a difference in the lives of those who grow it."
Trizanne Barnard and Bruce Jack are the wine makers. Both of them are avid surfers—Trizanne is the reigning champion of South Africa's Vintners Surf Classic, while Bruce has been a surfer for more than 40 years.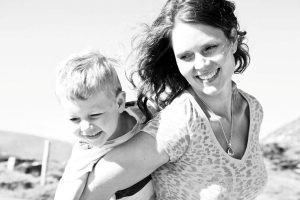 Chenin blanc is the most widely planted grape in South Africa, where it also is known as "steen." More than 50% of the world's steen/chenin blanc vines grow in South Africa. As South Africa reaches into international markets, it is more often called by the name of the grape in the Loire Valley of France. Much of South Africa steen/chenin blanc is used to make brandy. The Swartland W.O., 40 miles north of Cape Town, is hot and dry, which benefits chenin blanc because it is a tightly clustered grape subject to mildew and fungal disease in wet environments.
Lubanzi Wines Chenin Blanc Swartland 2017 is a solid South African chenin blanc with interesting backstory and admirable social element. This versatile wine will pair with many foods, including cheese quesadilla, arugula salad, seafood, salmon and avocado tartare, avocados in general, fish and chips, suchi, cooked egg dishes like quiches, frittatas, omelettes. $15-18