Medium yellow color; yellow apple, bread yeast on the nose; yellow apple, lemon, melon on the palate.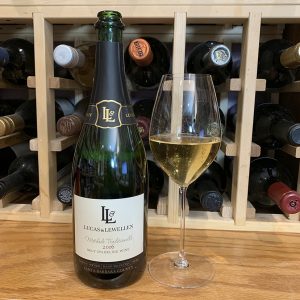 Dry; very vigorous bubbles. Fresh, bright, brisk thanks to excellent acidity (3.25 pH). Rich in the mouth with bready texture. Hints of honey, fruitiness, with a kick of lime to balance things on the finish; 13.1% ABV. Very nice effort.
The grapes come from Lucas & Lewellen's Los Alamos Vineyard, 278 acres stretching for more than a mile off Highway 101 just south of Los Alamos in the Santa Ynez AVA. The vineyard includes more than 20 grape varieties, including vines planted from European cuttings more than 25 years ago. Lucas & Lewellen makes this in Burgundian style using the same technique as classic Champagne.
The genesis of Lucas & Lewellen began in 1975 when Louis Lucas, a third-generation grape grower (and passionate Notre Dame alumni), and Judge Royce Lewellen, a superior court judge, met through the Santa Maria Wine & Food Society and the Rotary Club of Santa Maria. Lucas was a respected provider of grapes for fine wine makers in Napa and Sonoma, while Lewellen was both a passionate wine enthusiast and a man with a vision for the future of the Santa Barbara County wine industry.
Their friendship grew over the next quarter century, and in 1996 resulted in the Lucas & Lewellen Vineyards, a Solvang, California-based winery with 400 estate acres situated among three of Santa Barbara County's separate and distinct climate zones. Today L&L has three major wine labels, two tasting rooms in downtown Solvang, and a state-of-the-art winery.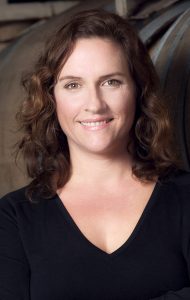 Megan McGrath Gates has been the winemaker for Lucas & Lewellen since 2007. She earned her undergraduate degree in soil sciences from Cal Poly San Luis Obispo and her Certificate in Winemaking at UC-Davis. She shares her mission on the company's website: "We make many decisions during the growing, fermenting and aging stages, but ultimately the grape really expresses itself," insists McGrath Gates, who is humble about the winemaker's role in the process. She adds, "My job is to allow the grapes to showcase their natural characteristics." The young winemaker prefers not to classify her philosophy as either Old World or New World, explaining, "I believe in balanced wines with all components married together so that layers of complexity are allowed to unfold."
Michael Lewellen, Royce's son, became a minority owner of the company in 1999 and joined the company full-time in 2009. Today as managing partner, he works with all departments—marketing and sales, finance, tasting rooms, and the winery.
Lucas & Lewellen Méthode Traditionelle Brut Sparkling Wine 2016 is superb expression of Burgundy-style sparkling from a maker of quality across many varietals. You will enjoy the tartness and yellow apple interlaced with rich fruit fruitiness. The acidity enables it to work with about any food you want to throw at it. Be adventurous—pair with grilled chicken breasts with grapefruit glaze; poached eggs with parmesan cheese and smoked salmon. $36