Deep purple color; red fruits, red plum on the nose; black cherry, dark fruits, savory, meaty notes, dried red berries, blueberry, licorice, minerality on the palate.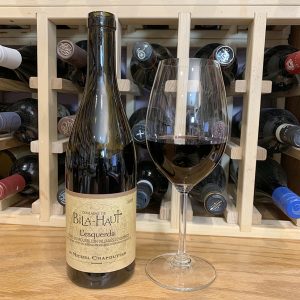 Dry; big red, serious wine. A tad rough on pop-and-pour with grippy tannins and some barnyard odor. Plus unfiltered and significant sediment, so decanting is strongly recommended. BTW, sediment usually is signal of quality, not a flaw, same with that fleeting whiff of barnyard. Medium body. Plump and juicy; 60% vivid syrah, 40% grenache—and maybe some carignan. Good structure with whispers of garigue to add adventure to the evolution on the palate. No oak; aged in concrete vats.
This is the entry level bottling of this M. Chapoutier L'esquera. Higher-tier versions cost north of $100 and receive Robert Parker ratings of 98, so approach this with suitable reverence. This is not for casual drinkers, who may find it too "red winey" for their developing palate, and even as I type these words I acknowledge wine snobbery. But, readers, I try to paint word picture to help you frame your wine decisions. This does not have residual sugar, nor florid fruit-forward simulacrum of sweetness; 14.5% ABV.
This comes from southeastern corner of France near both the Mediterranean Sea and Spain. "L'esquerda" means "escarpment" in the local Catalan dialect. The House of Bila, a translation of the name of the estate, once was a refuge for the Knights Templar, which explains the symbol of the label of this wine. The Chapoutier family moto is Fac et Sprea—"do and hope". Their website celebrates audacity: "Being audacious means keeping an open mind, embracing new horizons, other localities, other organic winegrowing methods. Being audacious means combining tradition and modernity, making it possible for them to join forces and engender new know-how and craft."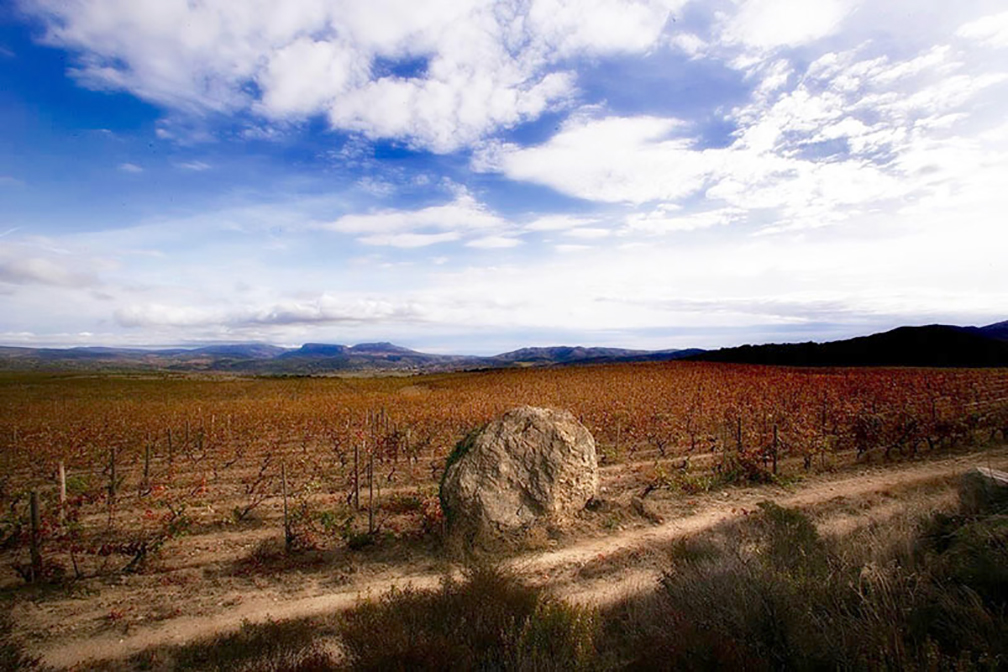 Part of that approach is careful attention to terroir, which includes responsible agriculture commitments and biodynamic agriculture in some areas. Led by winemaker Michael Chapoutier, they pioneered a special wine team dedicated to "accompanying the wine harvest" to provide guidance and support for implementing farming methods favored by M. Chapoutier among grape growers who provide grapes to the winery. These grapes come from "the warm and savage soils of the Roussillon area," according to the website.
M. Chapoutier also asserts dedication to consumers. Their stated values include: "Respect for the consumer whether they are wine connoisseurs or not. Maison M. Chapoutier crafts its regional wines with the same dedication given to the most prestigious bottles, investing just as much faith. The aim is always to convey the same love of wine, to give complete beginners a chance to discover its diversity."
M. Chapoutier Domaine de Bila-Haut Cotes du Roussillon Villages L'esquerda "L'Esquera", France 2016 is another high value in M. Chapoutier's Côtes du Roussillon Villages, their entry-level bottlings. Really serious wine; decanting is mandatory to get the most out of this. Excellent quality-price ratio. Pair with braised meats and stews; slow-cooked pork or lamb roasts; hearty Spanish or Portuguese country cooking; could work with lighter Indian dishes; shepherd's pie; barbecue; comfort foods like burgers, sliders, meat-lover pizza; cheddar and red leicester cheese. $23