Deep ruby color; cherry, plum, flowers on the nose; black cherry, plum, blackberry, blackcurrant, leather, cedar, soft spices on the palate.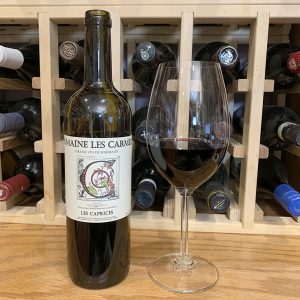 Dry; dusty, somewhat astringent tannins on pop-and-pour. Significantly improves with decanting. No oak influence "in order to highlight finesse and freshness of our terroir" according to the tech sheet. The cuvée spends up to six months in stainless steel vats; 14.5% ABV. Côtes de Bordeaux wines generally are consumed young; this one is ready to be enjoyed after decanting.
Yorick and Sophie Lavaud secured the 13-acre estate in 2010 after "they fell in love with the place." Yorick is big into organic/biodynamic farming. He treats his vines with herbal and compost teas made at the winery. The website notes: "Yorick is an agricultural engineer in love with the nature." The domaine is certified by Agrocert since 2010. Sophie is in charge of marketing and administration.
Cadillac is a commune in the Gironde department in Nouvelle-Aquitaine in southwestern France. It is on the right bank of the Garonne River, across the river from Sauternes. The Cadillac-Côtes de Bordeaux soil is mostly white, green, red, or brown clay, along with some gravel and limestone.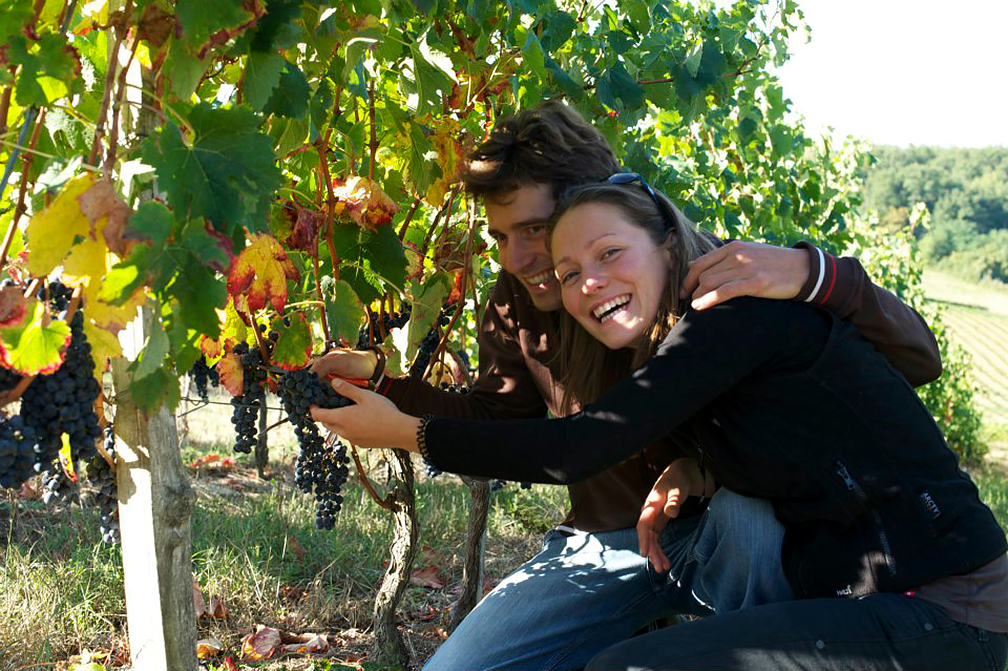 Locals say "your earth is in love with Sophie," by which they mean, especially in damp conditions, the soil clings to your boots like a lover. During construction of a wine storehouse on the property, it was determined clay extended at least 25 feet down—and was full of roots. That is merlot soil, and this is 100% merlot bottling.
In the 18th century, France sent explorer Antoine de la Mothe Cadillac, self-proclaimed Knight of Lamothe-Cadillac, a greater lover of wine, to be the New World. He founded Detroit in 1701. Laumet de la Mothe, however, was no Lord of Cadillac, was not even from Cadillac. He was, however, apparently enamored to the real Lord Cadillac's wife and appropriated the Cadillac name in the New World. After misadventure in Detroit, he was sent govern Louisiana. A century and a half latter, a car company used his name and, for its logo, modified the crest Laumet de la Mothe appropriated. That is the extent of the connection between the French wine region and the American car company.
While Bordeaux makes some of the priciest wines in the world, Côtes de Bordeaux wines typically are value wines. Côtes de Bordeaux is the youngest AOC appellation in Bordeaux, created in 2009 when four previously recognized communes merged (a fifth joined in 2016). The appellation covers more than 30,000 acres and 1,000 active growers. It produces some 10-14% of all Bordeaux wine. Merlot and cabernet franc dominate production.
Domaine les Carmels Les Caprices Côtes de Bordeaux, Cadillac 2018 is pure merlot play, not a Bordeaux blend. Loads of dark fruit. Pure merlot play. Really improves with decanting, evolving into tasty dark cherry and dark plum easy drinker. Pair with hearty red meats; roast beef; rib steak; braised short ribs; wild game; duck; pork shoulder; roasted mushrooms. Domaine les Carmels Les Caprices is priced a tiny bit higher than typical Cadillac Côtes de Bordeaux wine. $20-22