Pale straw-yellow color; citrus, yellow apple, pear, honeysuckle on the nose; pear, lemon-lime zest, yellow plum, yellow apple, melon hint, pinch of salinity on the palate.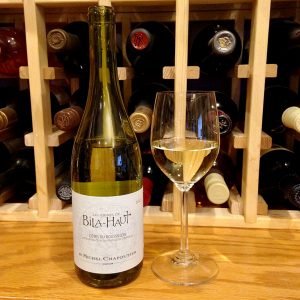 Dry; full body; round, fresh, both plush and crisp with good acidity and minerality; no oak—vinification 100% in stainless (some grenache blanc wines spend time in oak, not this one). Blend of grenache blanc, grenache gris, macabeu. Long maceration of two-to-three weeks, then aged on the lees, then racked from vat to vat to clarify the wine. Vats are blended prior to bottling to make bottles consistent; 13.5% ABV.
Bila-Haut is M. Chapoutier's entry level label; as such, it delivers superb value. Michel Chapoutier purchased Bila-Haut in 1999. It is located in one of the premier regions of the Languedoc called Côtes du Roussillon—thus the long name on the label. Historically, the site in the hills of the Agly Valley was first planted by Greeks well more than 2,000 years ago and has been a continuous wine region ever since. The "House of Bila"—the translation of the name—once was a refuge for the Knights Templar, which explains the "T" treatment on the label.
The Chapoutier family moto is Fac et Sprea—"do and hope." Their website celebrates audacity: "Being audacious means keeping an open mind, embracing new horizons, other localities, other organic winegrowing methods. Being audacious means combining tradition and modernity, making it possible for them to join forces and engender new know-how and craft."
Part of that approach is careful attention to terroir, which includes responsible agriculture commitments and biodynamic agriculture in some areas. Led by winemaker Michael Chapoutier, they pioneered a special wine team dedicated to "accompanying the wine harvest" to provide guidance and support for implementing farming methods favored by M. Chapoutier among grape growers who provide grapes to the M. Chapoutier winery.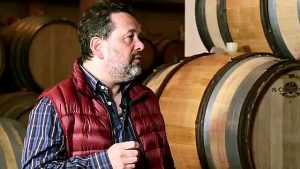 M. Chapoutier also asserts dedication to consumers. The négociant firm's stated values include: "Respect for the consumer whether they are wine connoisseurs or not. Maison M. Chapoutier crafts its regional wines with the same dedication given to the most prestigious bottles, investing just as much faith. The aim is always to convey the same love of wine, to give complete beginners a chance to discover its diversity." They succeed with this entry-level offering in their portfolio.
M. Chapoutier Les Vignes de Bila-Haut Côtes du Roussillon Blanc 2017 is delicious, versatile, big bang-for-the-buck bottle from an acclaimed wine maker and a region that has made wine since time out of memory. Superb fruit, sensationally smooth easy drinker. Pair with steak-like fish—swordfish, tuna steaks, snapper, mahi mahi; chicken in cream sauce. $13-16