Pale gold color; citrus, honeysuckle on the nose; Granny Smith apple, lemon, pear, apricot, mango, bit of banana on the palate.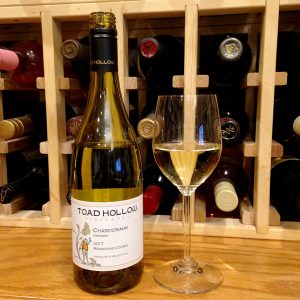 Dry; bright acidity (3.33 pH); no oak influences; medium body; smooth in the mouth with hint of butter after 90% malolactic fermentation, which provides a nice contrast to the acidity and tart elements. Slow, cool fermentation preserved the vividness of the fruit, which was 100% chardonnay: 93% Mendocino vineyards and 7% Monterey County, the same blend as the previous vintage. Flurries of tropical fruit on the nicely extended finish; 13.9% ABV.
Toad Hollow ferments cool, juice spends times on the lees, and they stop malolactic fermentation before completion to deliver a hint of butter but not a dairy—deft decisions that imbue this wine with palate pleasuring elements. The summer of 2017 was the year of fires in Mendocino and other parts of the California wine world, but there is no smoke elements here; the grapes were picked and in stainless steel fermenters before the fires even started in early October.
According to the winery's charming website, the Toad Hollow name comes from original owners, Dr. Toad (Todd Williams) and The Dancing Badger (Rodney Strong—he was a former dancer and choreographer), two friends who decided to start a winery in 1994 instead of retiring and rusting away. It remains family owned, although—from the website: "Heaven is a livelier place these days as both Dr. Toad and Mr. Badger have left their wine glasses with us here on Earth, but we know that these fine gentlemen toast us regularly, as we do them!"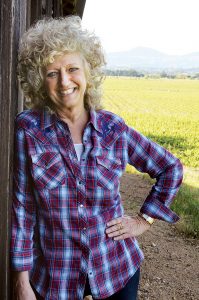 A couple of years ago, Frankie partnered with Delicato Family Vineyards to achieve more distribution, although she remains the winery owner. The partnership worked. You should be able to find this wine many places, including grocery stores.
Regular readers know of my admiration of Toad Hollow's president Frankie Williams. Francine "Frankie" Williams has a colorful history that includes working for the CIA. She arrived in California in 1972 and met Dr. Todd Williams. They married in 1978 and operated a San Francisco bar named "Toad Manner." Later, they opened the Whiskey River Inn in the Sierra Foothills before moving back to Sonoma and Healdsburg, where Frankie helped manage a law firm. Then came the wine operation.
After Todd passed on in 2007, Frankie vowed to continue and now enjoys her days surrounded by Russian River Valley vineyards, her long-time staff, and fellow growers. Toad Hollow had a tasting room in Healdsburg until the fall of 2018. That is now closed.
Toad Hollow Vineyards Francine's Selection Unoaked Chardonnay, Mendocino County 2017 is full, rich, juicy, tasty easy drinker with excellent balance and depth for a chard at this price point. Toad Hollow was a pioneer in celebrating no oak—in 1993, when California chards were notoriously over-oaked butter bombs. The quarter-century since has vindicated the decision. Unoaked or only lightly oaked are chard standards today. Unoaked chardonnay is among the most versatile of wines, especially with good acidity, as this effort exhibits. Pair with light pastas; grilled, baked, or rotisserie chicken; lighter seafood and fish; shellfish; veal; pork tenderloin; savory and/or drier appetizers such as cheese, olives, and bread. It will work with curry; many Mexican and other spicy dishes. It can even go with desserts such as peach cobbler. Breakfast, too—eggs and ham or bacon. Finally sipped cold and solo on a deck, patio, or poolside. $11-16