Deep purple color; red fruit, licorice, blueberry, spice; red fruits, red plum, blackberry, smoke, spice, savory notes on the palate.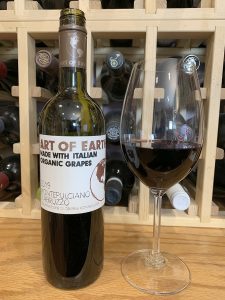 Dry; firm but silky tannins; balancing acidity (3.5 pH). Medium body. Made with 100% organic, hand-sorted montepulciano grapes. No oak—wine fermented and aged in stainless steel. The vineyard and winery are sustainable. Admirably, the glass bottle is light with screw top, both environmentally responsible decisions; 13.5% ABV.
MGM Mondo del Vino is the Italian winemaker. The Italian winemaking company notes: "For centuries man has taken naturally grown grapes from rich Italian soils and created wines in natural ways handed down over generations. Today Art of Earth wines are still created in the same way—from carefully selected organic grapes, harvested in traditional ways and then turned into organic wines with centuries-old natural winemaking methods. The love and passion with which this is done, produces unique, gentle wines bursting with natural flavors—true pieces of art from mother earth.
"There are two wines in the range—a Chardonnay and a Montepulciano. Both are unique. As such they are pieces of art, extracted from the earth in which the vines grow. Which explains the name Art of Earth. Keeping it natural in the vineyard and the cellar extracts the best from nature in a respectful, sustainable way. But, that's not where the story ends—even the packaging is eco-friendly. The light-weight glass bottle with screw cap is recyclable and cork tree-friendly."
The montepulciano grape is planted throughout central and southern Italy. It is Italy's second-most planted red grape, after sangiovese. It rarely is planted in northern Italy because it has a tendency to ripen late and can come across as green—herbaceous—when it must be harvested early due to weather. When fully ripe, which is easier to achieve as you move south, it produces deeply colored wines with moderate acidity and moderate alcohol. This effort tracks on what you expect from Montepulciano d'Abruzzo, including a consistent value-for-price position.
The Montepulciano d'Abruzzo DOC was created in 1968 as a 18,500-acre DOC only covering red and rosé wine. Wines qualifying for the DOC designation must include at least 85% montepulciano grapes, with sangiovese permitted up to 15%, although some subzones require 100% montepulciano. This bottle is 100% montepulciano. The wines must age a minimum of five months prior to release.
Mack & Schühle Art of Earth Montepulciano d'Abruzzo DOC 2019 is extraordinary QPR (quality-price ratio) Montepulciano d'Abruzzo. Smooth, rich, tasty. Relaxed tannin and acidity make it extremely easy drinker. Pairs especially well with spicy sausage. Montepulciano d'Abruzzo is exceptionally food friendly—classic Italian dishes; tomato-based pasta dishes; cheesy pizza; fatty beef burgers; roast pork; beef brisket; shepherds pie; beef bolognese; tagliatelle flat-rolled pasta with meat sauce or Bolognese sauce. $10-13
Winemaker MGM Mondo del Vino, Italy
Photos: The MGM and Mack & Schühle websites are rich, but they do not lend themselves to copying photos.