Medium amber-copper color; red fruits, strawberry, plum on the nose; strawberry, raspberry, red fruits on the palate.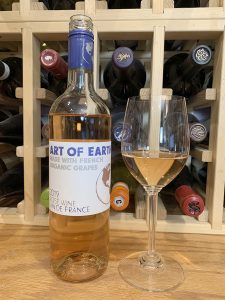 Dry; tasty blend of 70% grenache, 30% syrah; organic grapes. Provence style. Made using the saigné methode (free-run juice "bleeds" off rather than grapes being crushed). After 36 hours of maceration, fermented in stainless steel. Light body. Bright, easy on the palate. Good acidity (3.31 pH). Fruit forward. $12.5% ABV
Made by Vignobles Roux, a Bordeaux maker. Distribution is through Mack & Schühle in the United States. Mack & Schühle is located in Miami, Florida, and in Stuttgart, Germany, where they were founded in 1939. It is hard to tell from their websites, but most likely Vignobles Roux made this wine for Mack & Schühle for U.S. market. Vignobles Roux makes wines under its own labels, but they also produce brands for others such as Mack & Schühle.
Mack & Schühle both produces their own wines and distributes wines they hire others to make. In some cases—I do not know about this one—they have direct shareholding in the winery. As they note, Mack & Schühle does wine from the grapevine to the store shelf. They are as much a marketing and distribution company as a winemaker.
Mack & Schühle Art of Earth Rosé, Vin de France 2019 presents balance with good acidity and delicate fruitiness. Simple, straightforward rosé. Good value for what it is. Pair with white meats—chicken, pork; grilled vegetables; vegetarian fare. Works as aperitif or summer sipper. Cheese—soft cheeses. $10-15
Photos: Mack & Schühle and Vignobles Roux websites do not lend to copying photos.