Pale salmon color; orange, citrus, strawberry on the nose; citrus, strawberry, hint of plum, watermelon on the palate.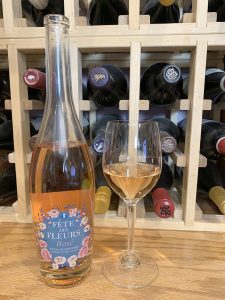 Dry, fruit, light, spring fruity. Very refreshing and lively. Excellent fruit. Blend of 40% grenache, 35% cinsault, 10% carignan. 10% syrah, 3% mourvèdre, 2% rolle grown in the stoney galet soils of Provence. Made in the traditional way of brief skin contact, very likely fermented and aged on the lees—sur lie—in stainless steel. 13% ABV
The wine was made by a cooperative of some 100 winegrowers, Maîtres Vignerons de Vidauban, formed more than a century ago. They operate 1,240 acres in the heart of the AOC appellation of Côtes de Provence in the Var department of France.
Mack & Schühle both produces its own wines and distributes wines they hire others to make, such as in this case. As they note, Mack & Schühle does wine from the grapevine to the store shelf. They are as much a marketing and distribution company as a winemaker. The likely partnership is Maîtres Vignerons de Vidauban makes and bottles and Mack & Schühl imports into the U.S. Mack & Schühle is located in Miami, Florida, and in Stuttgart, Germany, where they were founded in 1939.
This sort of relationship means there are no photos of winery principals or lovely vineyards to put in this review. This is a good product worth finding and tasting. Expect a classic Provence rosé and good distribution in the U.S.
Mack & Schühle Fête des Fleurs Rosé, Côtes de Provence 2020 is delicate, balanced, very tasty. Wonderful wine for spring, nice wine for any time of the year. Excellent as an aperitif. Works with garden salads and salads where fruits play a role. Fruits by themselves—strawberries, raspberries, peaches, pears will pair well. Grilled or roasted vegetables. Gazpacho soup, artichokes risotto. Lighter fish, boiled shrimp. Cheese—feta, mozzarella, young cheddar, baby swiss. $19