Medium-deep ruby color; raspberry, black cherry, spice on the nose; cherry, raspberry, cranberry on the palate.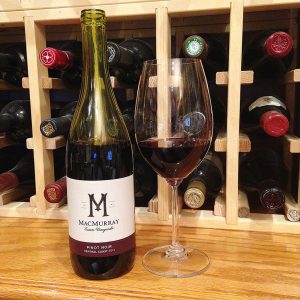 Lush, soft tannins; nice acidity (3.60 pH); ripe, full fruits. Restrained oak: 40% aged in French oak, 7% in first use, 33% in second use or older; 60% aged in stainless steel, allowing for the fruit to show well. Medium body; dry; vivd fruitiness. Full malolactic fermentation delivers creaminess; some vanilla and spice hints from the oak.
Most of the grapes for this 100% pinot noir pour came from Olson Ranch Vineyard, a spectacular vineyard in the Santa Lucia Highlands in Monterey County. The vineyard is heavily influenced by the nearby Pacific Ocean's cool and persistent breezes, ideal for pinot noir. The remainder of the crush came from the Santa Rita Hills AVA in Santa Barbara County, another sweet spot for pinot.
MacMurray Estate enjoys a great multi-family, multi-generational backstory. It began as the Porter family farm in the 1850s. Actor Fred MacMurray (My Three Sons, Double Indemnity, The Caine Mutiny) purchased the property in 1941 and raised black angus cattle, prunes, apples, and alfalfa. The Gallo Family purchased the ranch and planted vines in the mid-1990s after MacMurray's death. MacMurray's daughter, Kate, later joined the operation as chief spokesperson; she also is an actress, screenwriter, and environment activist. Kate earned a masters degree in film studies from Southern Cal; she lives on the property in an 800-square-foot redwood fishing cabin her father helped build. The other original buildings on the site have been restored, and the property is graced by old growth oaks, redwood trees, and indigenous wildlife.
Now expanded beyond the original 1,500 acres, the MacMurray wine operation focuses on pinot noir, chardonnay, and pinot gris. Reflecting that expansion, the winery now calls itself "MacMurray Estate Vineyards"; previously it was called "MacMurray Ranch".
Winemaker Boyd Morrison oversees operations. The Bay Area native earned his degree in viticulture and enology at Cal-Davis, then worked at wineries in Napa, Chile, California's Central Coast, Simi Winery, and Alexander Valley Vineyards before coming to MacMurray. He enjoys the unfolding challenges of pinot noir, stating on the website: "We're still discovering how we can make our Pinot Noir better, how we can grow the grapes better, and how we can do that consistently, no matter what a vintage throws at us or what challenges we face." Most quality grape growers and wine makers would echo that sentiment.
MacMurray Estate Vineyards Pinot Noir Central Coast 2014 is delicious, well-made, true-to-pinot profile, widely available at a great price. In short, a wine a great actor would be proud to have his name on the label and his daughter involved in the operation. $15
MacMurray Estate Vineyards website