Deep purple color; blackcurrant, blackberry, clove-spice on the nose; blackberry, red and black cherry, raspberry, cola, vanilla, pepper on the palate.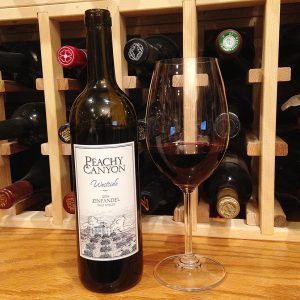 Very rich and big in the mouth; loads of sweet ripe fruit; supple tannin and subdued acidity. Blend of 77% zinfandel, 11% petite sirah, 7% alicante bouchet, 3% tannat, 2% syrah. True to the California style of fun, easy drinking, robust, lush, coats-tongue-and-cheek with flavor zin.
Nancy and Doug Beckett founded Peachy Canyon in Paso Robles in 1988. Originally a modest 500-case venture, today the product sells in 48 states, Canada, the Pacific Rim, and Europe. First a school teacher, then a partner in a small chain of convenience stores, Doug moved his family to Paso Robles in 1981 and supported his wife and two sons as a carpenter who worked exclusively on barns. In addition to starting the winery, Doug developed land, sold real estate, taught school as a resource specialist, and started an import-export company specializing in art glass from Eastern Europe.
Nancy Beckett also was a teacher. In 1991 she became part owner of Class Act Dance Studio, satisfying her love of tap dancing. She has retired from running the dance school business, but still teaches classes. The couple's sons stayed with the family business, Jake as the head of sales and marketing and Josh as head winemaker. Today, Peach Canyon is the largest family-owned winery on the west side of Paso Robles.
Robert Henson is the winemaker at Peachy Canyon today. Henson says his passion is for balance in sugars, acidity, tannin, and fruit. He strives for varietally-correct, terroir-driven wines; he achieves his goal with this effort.
Paso Robles asserts its place as a quality wine region, aided by huge diurnal temperature changes by some statistics the greatest in California, some days 50 degrees. This allows for great fruit ripening but creates enough acidity at night to avoid flabbiness. Paso Robles may not be mentioned in the same sentence as Napa and Sonoma, but it does belong in the same paragraph, and it reputation improves each vintage.
Peachy Canyon Winery Westside Zinfandel Paso Robles 2014 is a classic California and Paso Robles zin; roaring with great fruit while assiduously avoiding the perils of an over-extracted, jammy, candified fruit and alcohol bomb (this is only 14.8% ABV—restrained by some CA zin standards). The petite sirah adds more inky color, body, black cherry to the effort. $18-22