Deep straw-gold color; apricot, green apple, lemon on the nose; tropical fruits, cardamon, green apple, lemon, peach on the palate.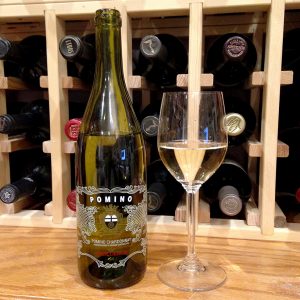 Dry; mostly chardonnay and pinot bianco (20%) with small amounts of other complementary varieties. Broad mouthfeel while also being light and crisp with excellent acidity. Plenty of ripe fruit, citrus tang on the finish. Virtually no oak—most of the juice went into stainless steel, only a small portion into barrels. Almost no butter—partial malolactic fermentation and only for the juice that went into barrel.
The Frescobaldi family have been major players in Florence and Tuscany for more than 700 years. They began producing wine in Tuscany in 1308; some of their customers included Michelangelo and Henry VIII. At the high point of medieval Florence, the Frescobaldi family spread its influence as bankers, earning the title of treasures to the English crown. A little while later, with the flowering of the Renaissance, they became patrons of major works in Florence, including construction of the Santa Trinita bridge and the Basilica of Santo Spirito.  In a foreshadowing of the Super Tuscan revolution, they began planting chardonnay, cabernet sauvignon, and merlot vines in the region in 1855.
In 2013, Lamberto Frescobaldi became president of the company, the 30th generation of the family to hold the position, taking over from his uncle Leonardo. Lamberto studied at UC-Davis and has worked to modernize the company and expand in the U.S. and other markets since the late 1980s. He became vice president in 2007 and oversaw the renewal of the estates in the family's extensive portfolio, including six in Tuscany: Pomino (which grows chardonnay and pinot noir), Nipozzano, Castel Giocondo, Ammiraglia, Castiglioni, and Remole. While they make many wines, they are most famous for their chiantis.
The company's mission statement reads:
The Frescobaldi name carries with it the on-going responsibility of cultivating the best of Tuscan diversity, through:
• Sustainable cultivation of the land to produce fine wines which perfectly represent and fully illustrate the diversity of our family estates.
• Communicating and promoting the culture of Tuscany and its different territories, through our Estates, our wines and specific value-enhancing projects
Marchesi de Frescobaldi Castello di Pomino Chardonnay 2016 is tasty delight with focus on fruit, peach especially emerging after time in glass allows the wine to get some air and warm up a bit. There is an intriguing lightness to it even though it has a medium body, perhaps because of the excellent acidity and the sharp focus of the excellent fruit flavors. Pair with vegetarian antipasti, rich fish such as salmon steaks; will work very well as an aperitif. $19-20