Deep ruby color; cherry, spice on the nose; sour cherry, blackberry, plum, vanilla, white pepper, oak spice on the palate.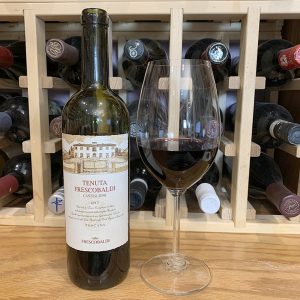 Dry; moderate tannins with some balancing acidity. Something of a kitchen sink, super Tuscan mashup of mostly cabernet sauvignon (50%) and merlot (30%), with 10% dollops of cabernet franc and sangiovese. Oak helps knit this together—a year in French wood. Round. Medium body. Sour cherry pronounced throughout, especially on the extended finish; 13% ABV
This was bit disjointed on pop-and-pour, but integrated and smoothed with air in glass. Definitely decant. Plenty of dark fruit.
The Frescobaldi family have been major players in Florence and Tuscany for more than 700 years. They began producing wine in Tuscany in 1308; some of their customers included Michelangelo and Henry VIII. At the high point of medieval Florence, the Frescobaldi family spread its influence as bankers, earning the title of treasures to the English crown. Later, with the flowering of the Renaissance, they became patrons of major works in Florence, including construction of the Santa Trinita bridge and the Basilica of Santo Spirito. In a foreshadowing of the Super Tuscan revolution, they began planting chardonnay, cabernet sauvignon, and merlot vines in the region in 1855.

In 2007, Lamberto Frescobaldi, the 30th generation of the family, became vice president and oversaw the renewal of the estates in the family's extensive portfolio. In 2013, Lamberto became president of the company, taking over from his uncle Leonardo. Lamberto studied at UC-Davis and has worked to modernize the company and expand in the U.S. and other markets since the late 1980s.
Marchesi Frescobaldi Tenuta Frescobaldi Castiglioni, Toscana 2017 is bold, rich Super Tuscan from historic maker. Loads of rich, dark fruits. Sour cherry gives this distinctive character throughout the tasting experience. Pair with Italian dishes—it goes without saying. Spicy dishes; spicy sausage. Beef; lamb; veal; roasted pork; cured meats; full-flavored cheese. $18-23
Frescobaldi website, rich with photos and videos