Deep ruby color; black plum, red berries, leather on the nose; plum, raspberry, cherry, blackberry, blueberry, earth on the palate.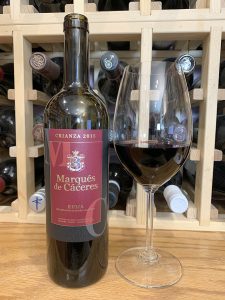 Dry; grippy tannins, significantly benefits from decanting. Crisp acidity. Medium-full body. Solid, balanced, easy going tempranillo-led effort. Some oak. Represents the value you can find in Spanish reds. Not complex or layered, just very drinkable one-dimensional red wine that will pair with range of richer red meats. Extended, warm finish; 14% ABV.
Enrique Forner founded Marqués de Cáceres in 1970. At the time, it was, according to their website, "a historic Alliance between a region (Cenicero, La Rioja Alta), an enterprising family that has been devoted to the wine trade for five generations, the best vine growers and vineyards in La Rioja and a Bordeaux concept which revolutionised the production and business model with a single objective: the quality to obtain the best wines, an obsession that today continues to be the leitmotiv of Cristina Forner, the fourth generation of this wine family."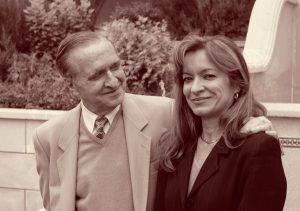 Marqués de Cáceres was a pioneer importer of Rioja into the U.S. market. Today, the brand is marketed in more than 120 countries. Spain is the world's largest exporter of wine by volume (France is the largest by price). This is classic play—a well made wine that may not soar to the celestial heights of some Rioja reserva and gran reserva efforts, but clearly pegged at a price point the average wine sipper can afford and will enjoy. Widely available.
Marqués de Cáceres Crianza, Rioja DOCA 2015 is simple, straightforward red wine led by tempranillo. Round, easy drinker. Value wine. Everyday drinker. Pair with barbecue; slow-cooked brisket; lamb; lamb lollipops; veal; roasted chicken; burgers; meat loaf; comfort food in general. Roasted game birds; mushroom risotto; blue cheese and other strong cheeses. Excellent QPR (quality-price ratio), especially when you can find at low end of its price range, which is widely available. $14-20
Marqués de Cáceres Crianza website