Deep ruby color; cherry, red fruit, blackberry, blackcurrant, oak spice, pepper on the nose; sour cherry, raspberry, blackberry, plum, licorice, oak, vanilla, tobacco, mocha, spice on the palate.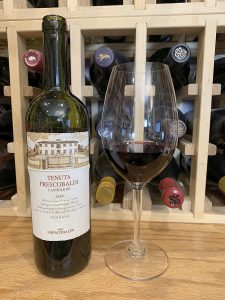 Dry; fine-grained, medium tannins are intense on the pop-and-pour. As with my experience from the previous vintage, I find decanting rounds things off and integrates the wine. Decanting recommended, or swirl time in large glass. Medium acidity. Medium body. Blend of cabernet sauvignon (in previous vintage, 50%), merlot, cabernet franc, and sangiovese. Save for the sangiovese, this is a left bank Bordeaux blend from Tuscany. The similarity is reinforced by moderate alcohol, 13.5% ABV. Rich savory notes on satisfying finish.
The grapes were harvested, de-stemmed, and fermented with light pump-overs in temperature-controlled stainless steel tanks. Full malolactic fermentation. The wine was barrel-aged for one year in French oak barriques, followed by two months of bottle aging.
Members of the Frescobaldi family have been major players in Florence and Tuscany for more than 700 years. They began producing wine in Tuscany in 1308—at the Castiglioni estate that produced this wine. Some Frescobaldi customers included Michelangelo and Henry VIII. At the high point of medieval Florence, the Frescobaldi family spread its influence as bankers, earning the title of treasurer to the English crown. Well over a century before that became vogue in the region.

Later, with the flowering of the Renaissance, they became patrons of major works in Florence, including construction of the Santa Trinita bridge and the Basilica of Santo Spirito. In a foreshadowing of the Super Tuscan revolution, they began planting chardonnay, cabernet sauvignon, and merlot vines in the region in 1855.

In 2007, Lamberto Frescobaldi, the 30th generation of the family, became vice president and oversaw the renewal of the estates in the family's extensive portfolio. In 2013, Lamberto became president of the company, taking over from his uncle Leonardo. Lamberto studied at UC-Davis and has worked to modernize the company and expand in the U.S. and other markets since the late 1980s.
Marchesi Frescobaldi Tenuta Frescobaldi Castiglioni, Toscana 2018 is smooth and pleasing—after decanting or swirling exposure to air—from historic maker. Sour cherry gives this distinctive character throughout the tasting experience. Parade of oak nuances. Evolves into a smooth, tasty, easy drinker. Pair with Italian dishes; spicy dishes; spicy sausage; beef; lamb; veal; roasted pork; cured meats; aged, full-flavored cheese. $20-25
Frescobaldi website, rich with photos and videos