Deep ruby color; black fruits, cherry, earth, tobacco on the nose; dark cherry, blackberry, raspberry, red plum, roast tomato, balsamic, sweet oak spice on the palate.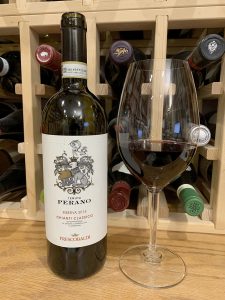 Dry; medium tannin and excellent balancing acidity. Medium body. Rich, bright, Straightforward red and dark fruits from initial attack through the finish, so not overly complex or nuanced, but the fruit is so pleasing you do not long for layers and nuance. Really easy drinker. Gentlemanly elegant finish. 14% ABV
Mostly sangiovese; small amount of merlot. The wine spent 24 months in Slavonian oak barrels. The Tenuta Perano territory is located in the heart of Chianti Classico, northeast of Siena and south-southeast of Florence. Vineyards are located 1,600-plus feet above sea level, a high elevation for sangiovese grapes. The vineyard is in a natural amphitheater with southwest exposure. The slopes are steep with stony soils—a classic ideal for quality grapes.
The Frescobaldi family have been major players in Florence and Tuscany for more than 700 years. They began producing wine in Tuscany in 1308; some of their customers included Michelangelo and Henry VIII. At the high point of medieval Florence, the Frescobaldi family spread its influence as bankers, earning the title of treasures to the English crown.

A little while later, with the flowering of the Renaissance, they became patrons of major works in Florence, including construction of the Santa Trinita bridge and the Basilica of Santo Spirito, one of the preeminent examples of Renaissance architecture. In a foreshadowing of the Super Tuscan revolution, they began planting chardonnay, cabernet sauvignon, and merlot vines in the region in 1855.
In 2013, Lamberto Frescobaldi became president of the company, the 30th generation of the family to hold the position, taking over from his uncle Leonardo. Lamberto studied at UC-Davis and has worked to modernize the company and expand in the U.S. and other markets since the late 1980s. He became vice president in 2007 and oversaw the renewal of the estates in the family's extensive portfolio, including six in Tuscany. While they make many wines, they are most famous for their chiantis.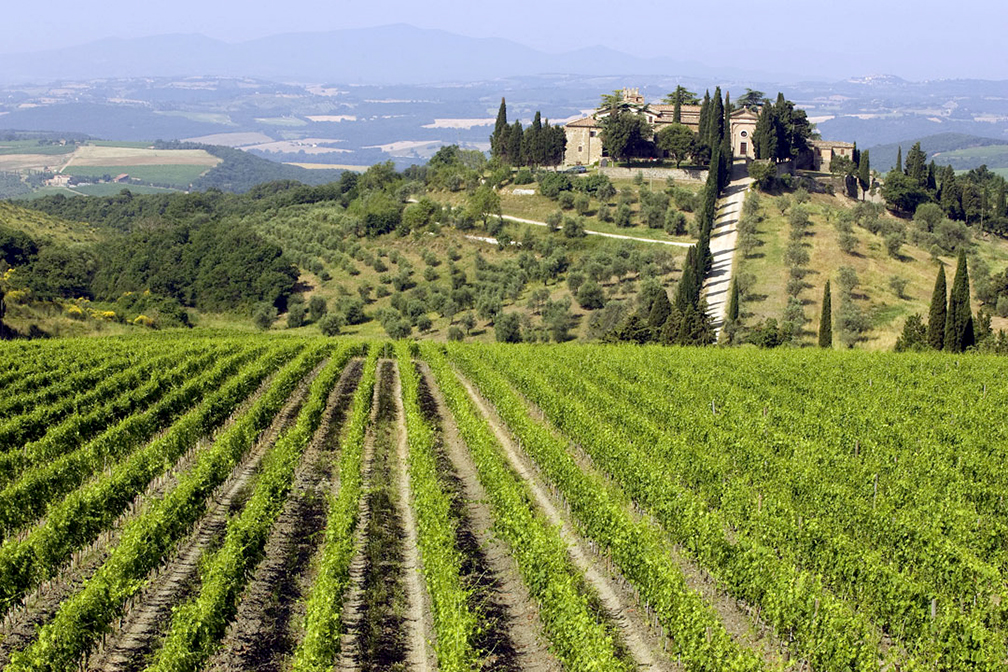 The company's mission statement reads: "The Frescobaldi name carries with it the on-going responsibility of cultivating the best of Tuscan diversity, through:
"• Sustainable cultivation of the land to produce fine wines which perfectly represent and fully illustrate the diversity of our family estates.
"• Communicating and promoting the culture of Tuscany and its different territories, through our Estates, our wines and specific value-enhancing projects."
Marchesi Frescobaldi Tenuta Perano Chianti Classico Riserva 2015 delivers sangiovese punch and power paired with elegance and easy drinkability. Really nice palate-pleasing effort from a major player in Chianti and Italian wine in general. Pair with pasta dishes; meaty Italian dishes in general; pizza, lasagna, spaghetti and meatball; beef; baked fish; veal; poultry—chicken parmesan. Cheese—Italian cheeses, especially parmesan, aged pecorino. $30-40
Frescobaldi website, rich with photos and videos