Medium ruby color; black plum, blackberry, cherry on the nose; plum, black cherry, blackberry, vanilla on the palate.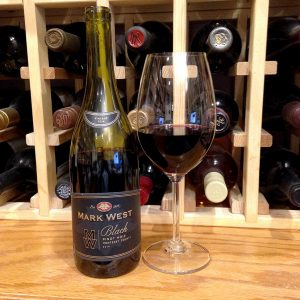 Dry; very dark for a pinot noir; smooth; full body; light tannins; some acidity; a hint of bitterness on the finish. This is commodity pinot noir, so do not anticipate the soaring, etherial delights you can get from the Willamette Valley. The Mark West wine factory aims at a consistent taste and profile. That serves a thirsty market, and if this is your style, then enjoy.
The wine is made using the saignée method where lighter, free run juice is bled away (saignée is French for bled) and turned into rosé. The remaining grapes are pressed and macerated with skins, seeds, stems. The wine, consequently is darker and more concentrated. Black, if you will; 13.5% ABV.
Mark West originally was intended for restaurant sales and is the Marriott Hotel chain's house pinot noir. Now it can be found in most supermarkets and by the palate in Sam's Club stores. Mark West wines are justifiably criticized as being "pinot noir in name only," but that sort of misses the point. This is not made for pinot aficionados, but for mass market sometimes sippers. There is no earthiness (neophyte drinkers wouldn't enjoy that), no assertive tannin (faint of palate would flee from that, and pinot is not a big tannin wine). Mark West often can be had for a Hamilton (price sensitive buyers embrace that). Mark West calls their product "wine for the people."
The grapes come from Monterey County which includes parts of the Carmel Valley and the Salinas Valley. Pinot noir grapes typically come from the northern part of the Central Coast AVA, while chardonnay predominates in the south. At 46,000 acres under vines, Monterey County is one of California's largest premium wine areas. By comparison, Napa has just slightly less vine acres, Sonoma has more than 60,000 acres. Monterrey is the largest grower of chardonnay in the United States and the largest grower of pinot noir in California.
Mark West Pinot Noir Black, Monterey County 2014 is a commodity pinot noir made by Constellation Brands and specializes in value-priced pinot noir. Black is their darkest, smoothest effort. The concentrated fruit comes with a sweet illusion and some heaviness and artificiality. That is what you get when you produce more than a million cases a year at this price point. Don't expect more and you will not be disappointed. Pair with grilled meats; grilled lamb chops; pizza; pulled pork; wild game. $10-13