Medium yellow color; toast, pear, crushed rock on the nose; peach, lemon, pineapple, citrus, honeydew melon, ginger on the palate.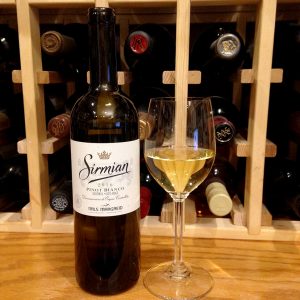 Dry; medium body; delightfully creamy in the mouth. Good acidity. A pinch of salt/minerality occurs on the nicely long finish. Well structured, classic, excellent expression of Alto Adige pinot bianco (pinot blanc in France). Aged for eight months in large oak casks, but oak is very subtle, perhaps adding roundness to this savory, delicious effort without imposing wood intensity; 13.5% ABV.
Sometimes called "chardonnay's understudy," pinot blanc's historic home is in Alsace, although riesling and gewurztraminer overshadow it there. Pinot bianco/blanc's other major home is northeastern Italy's Sudtirol–Alto Adige, where it is called pinot bianco and made in crisper, somewhat lighter style. That is the grape and the region that made this effort. Italians also use the grape to make sparkling wine.
The winery website notes about the source of these grapes: "Thanks to the elevated location of Penon village, accentuated elegance, crisp freshness and distinct acidity characterize our Pinot Blanc. The late harvest in October encourages persistence and opulence through a stimulating bouquet of apple and pineapple. A suitable appetizer as an aperitif, and a fruity-fresh companion to light starters, fish dishes and white meats.
"On the slopes of Margreid is planted the Penon vineyard with its pure limestone gravel soils. The elevated location is in a particularly warm area and favours the late maturation of Pinot Bianco and Müller Thurgau vines. Their grapes turn out small and intense, and determine the wines' typical make up."
Nals Margreid Sirmian Pinot Bianco, Sudtirol–Alto Adige 2016 is splendid example of Alto Adige pinot bianco—layers of tasty fruit, enough minerality and acidity to play well with variety of foods, especially lighter fare. Pairs best with foods with subtle flavors—salads with creamy dressing; light, flakey fish; soft cheeses. $26-32