Deep ruby color; cherry, plum, chocolate on the nose; both black Bing cherry and tart cherry, plum, raspberry, strawberry jam, chocolate, oak, vanilla, baking spices on the palate.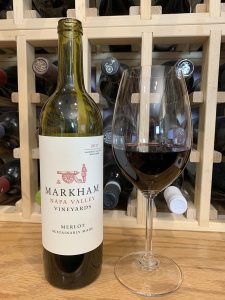 Dry; smooth tannins; semi-bold; good acidity for merlot (3.59 pH). Medium body. The restraint and modesty you expect from this style of merlot. Balanced. Fermented 100% in stainless steel. Dark merlot color from 13 days of skin contact. Aged 15.5 months in American oak, 32% new. Blend of 87% merlot, 9% cabernet sauvignon, 3% petite sirah, 1% malbec. Kimberlee Nicholls is the winemaker; 14.6% ABV.
Merlot is a Markham Vineyards specialty. One of the first female winemakers in the Napa Valley, Kimberlee Nicholls has been winegrower and winemaker since 2001. She supervises 350 acres of Napa Green certified sustainable estate vineyards in Yountville, Oak Knoll, and Calistoga. Markham Vineyards hold Napa Green Land, Napa Green Winery, and Fish Friendly Farming certifications.
Founded in 1874, Markham is one of the Napa Valley pioneers. It has operated continuously since its founding, albeit under different names. It is the fourth-oldest continuously operating winery in Napa County. The present-day winery still uses the stone cellar built in 1879.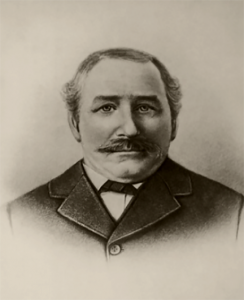 Jean Laurent, an immigrant from Bordeaux, arrived in the region in 1852, part of the California Gold Rush. Laurent's wines earned acclaim through the 1880s. Laurent died in 1890. A succession of owners operated the winery until Bruce Markham purchased the winery in 1978. Markham consolidated vineyards and increased production from 3,500 cases a year to some 20,000 over the next decade. A US Navy veteran, Markham instituted a tradition of firing a small signal cannon to mark the start of each harvest. The cannon on the label celebrates that tradition.
In 1988, Markham sold his winery to Japanese wine and spirits producer Mercian Corporation. Mercian initiated a four-year, multimillion-dollar renovation, expansion, and replanting program. The efforts more than doubled Markham's production. In 2019, the became part of Distinguished Vineyards & Wine Partners, which is owned by the Japanese company Kirin. Kirin units include Kirin Brewery Company, Mercian, and Kirin Beverages. Kirin is a member of the Mitsubishi Group.
Markham Napa Valley Vineyards Merlot 2017 is classic, soft—others would say balanced—merlot effort. Layers of cherry flavors snuggle and fondle your palate. An endearing effort if you are a merlot connoisseur. Markham is noteworthy for its merlot, and this is their tasty entry-level offering. Pair roast beef; filet mignon; grilled and roast chicken; lamb; roast pork and pork tenderloin; blue, cheddar, gorgonzola cheese. $22-29