Pale gold color; flowers, lemon, green apple on faint nose; apple, peach, grapefruit, orange on the palate.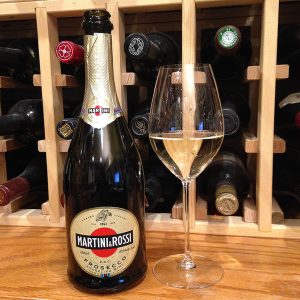 Extra dry (slightly sweeter than brut); very fine bubbles, made in frizzante style (light bubbles, less acidity), this does have zesty acidity, but not the tongue-cutting acidity you can find in other sparklings/Proseccos. It is a very simple sparkling wine. Spend a little more and you will get more bubbles, more acidity, and more character, but this will work fine for girls night out or any time you want the wine to be background player, something to whet your whistle while you talk about other things and maybe move on to things more substantive.
The Martini logo, the single word printed over a large red dot, is associated with vermouth and cocktails (especially Martinis), while their sparkling wines are branded Martini & Rossi. The Prosecco is made in the Veneto region (northeastern Italy)—as Italian rules require. They also make Martini & Rossi asti in the Piedmont region (northwestern Italy), and Martini & Rossi red wines and gin. The company also owns Noilly Prat, a French vermouth company.
The company started in the mid-1800s and was run by three men: businessman Alessandro Martini, winemaker Luigi Rossi, and accountant Teofilo Sola. In 1863 they took the name Martini, Sola & Cia. When they sold the company in 1879, the name changed to Martini & Rossi. The Martini "ball and bar" logo was registered in 1929, and one year later Luigi Rossi's sons took control of the enterprise. The company was restructured as the General Beverage Corporation in 1977 and merged with Bacardi in 1993.
There is some debate over whether the Martini cocktail flows from Martini vermouth in the 1860s or from the 1860s at the Occidental Hotel in San Francisco, where people sipped the drink before taking the evening ferry to the nearby town of Martinez. Both stories could be true, but obviously Martini & Rossi favor the one that claims Alessandro Martini in the etymology. In any event, Martini is very closely associated with vermouth (a wine in which herbs, roots, barks, bitters, and other flavoring has been steeped). The spearhead of the company remains its wide range of vermouth; its sparklings seemingly are sidelines. This bottle is nice enough, but innocuous is the adjective I can't escape in its description, not a bad thing, but not a compelling thing either.
Martini & Rossi Prosecco DOC NV will not offend, but it also will not wow. Simple, very easy drinker, on the sweeter end of extra dry, which will please folks who shun dry wines. Serve as an aperitif before getting serious with Martini cocktails made with Martini vermouth. Pair with fruit, prosciutto-wrapped melon, Asian dishes; use as a base for Bellini (sparkling wine and peach purée), mimosa (equal parts sparkling and orange juice), Prosecco punch. Best served very cold—45 degree; can be served on ice. $12-13