Deep ruby color; blackberry, plum, cherry, cola on the nose; black cherry, blackberry, plum, blueberry, blackcurrant, vanilla, oak, smoke on the palate.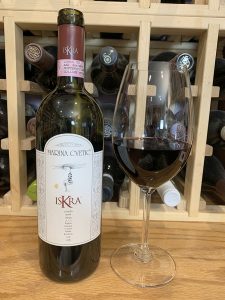 Dry; ripe, fine-grained tannins with balancing acidity. Medium-plus body. After six years, oak complements the assertive dark fruit flavors. Bold with impressive structure. Long and deep finish where whiffs of smoke appear. Sip back and enjoy the tasty dark fruit parade. 14.5% ABV
"Iskra" means "spark" in Croatian, the native language of estate owner Marina Cvetić, and this delivers a spark of wonder and wine royalty. The firm but approachable tannic background is characteristic of montepulciano wine from Colline Teramane. Colline Teramane is not famous for graceful, well-behaved wines, but this one is admirably graceful and well behaved.
Fermented in stainless steel for 15-20 days. Maceration lasted almost a month. It spent a year in barrel, then two years in bottle before commercial release. Grapes came from high altitude vineyards in the Apennine Mountains influenced by the mild climate of the Adriatic Sea to the east.
Gianni Masciarelli established the Masciarelli Tenute Agricole estate in 1978 near the small village of San Martino. He soon became a leading figure in producing premium wines and modernizing wine making in the d'Abruzzo region. Before Gianni's influence, the region on the east coast of Italy, due east of Rome, was known for cheap, drinkable wines that lacked distinction and were most famous for "turning people's teeth purple." Gianni was a major force in changing that.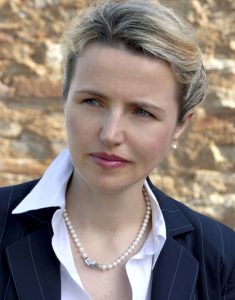 Gianni met Belgrade-born Marina Cvetić in 1987; they married in 1989, and upon Gianni's unfortunate heart attack death in 2008 (at age 53) Marina took full control of the operation. She has succeeded in ways that certainly would make her husband proud. Today, Masciarelli is among the most respected wineries in the region.
This wine also has an American connection. Gianni's cousin, Nicola "Nick" Masciarelli, immigrated to the U.S. in 1959. Trained as a mechanical engineer, he found work in the auto industry, flourished in America, expanded to become a leading car dealership in Massachusetts and the largest Fiat dealer in the United States.
In 1987, looking for something to do after retiring from auto sales, he founded the Masciarelli Wine Company. That boomed to success, too. The company today represents not only his extended family's wines and other Italian wines, also more than 350 French Château offerings, plus wines from Portugal, South Africa, Germany, Australia, New Zealand, South America, Spain, California, Massachusetts, Oregon, New York, and Washington—more than 1,000 labels in all. Nick died in 2004, his daughter, Roberta Masciarelli-Spagnuolo runs the American wine distribution company today.
Masciarelli Marina Cvetić Iskra Montepulciano d'Abruzzo Colline Teramane DOCG 2015 is elegant, impressively deep and well-structured effort. Polished, delicious in bold montepulciano tradition, but deftly avoids brutish elements. Velvety fruit pleasures your palate, and wine grows even more approachable and delicious with extended exposure to air. Pair with almost any sausage, a classic pairing with montepulciano; chili; perfect with classic tomato-based Italian dishes; pizza (of course); beef brisket; roasted winter vegetables; roast pork; braised goat; shepard's pie; meatloaf; black been burgers; wild rice. $33-40
Website of U.S. importer of this wine