Intensely dark color, virtually black; dark fruits, earth on somewhat subdued nose; massive red cherry, blackberry, red plum, raspberry on the palate.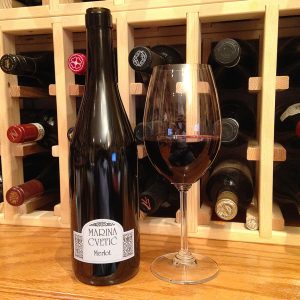 This is really big for a merlot, more tannin and grip than you expect (especially in first glass), nice acidity (3.55 pH); a year in new French oak delivers vanilla but thankfully not huge oak; drying finish that extends significantly. This is not a mild, gentrified merlot, but a big, dark red wine. It greatly benefits from air, smoothing out its initial attack, significantly toning down its brawny finish, and evolving into a nicely integrated delight. Just give it some air time—decant. This is serious red wine, so if you recoil from robust red flavors and assertive elements, best you not run with the big dogs and this effort.
Gianni Masciarelli established the Masciarelli Tenute Agricole estate in 1978 near the small village of San Martino. He soon became a leading figure in producing premium wines and modernizing wine making in the d'Abruzzo region. Before Gianni's influence, the region on the east coast of Italy, due east of Rome, was known for cheap, drinkable wines that lacked distinction and were most famous for "turning people's teeth purple." Gianni was a major force in changing that.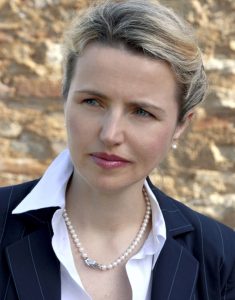 Gianni met Belgrade-born Marina Cvetić in 1987; they married in 1989, and upon Gianni's unfortunate heart attack death in 2008 (at age 53) Marina took full control of the operation. She has succeeded in ways that certainly would make her husband proud. Today, Masciarelli is among the most respected wineries in the region.
This wine also has an American connection. Gianni's cousin, Nicola "Nick" Masciarelli, immigrated to the U.S. in 1959. Trained as a mechanical engineer, he found work in the auto industry, flourished in America, expanded to become a leading car dealership in Massachusetts and the largest Fiat dealer in the United States.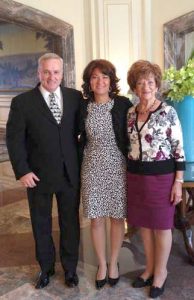 In 1987, looking for something to do after retiring from auto sales, he founded the Masciarelli Wine Company. That boomed to success, too. The company today represents not only his extended family's wines and other Italian wines, also more than 350 French Château offerings, plus wines from Portugal, South Africa, Germany, Australia, New Zealand, South America, Spain, California, Massachusetts, Oregon, New York, and Washington—more than 1,000 labels in all. Nick died in 2004, his daughter, Roberta Masciarelli-Spagnuolo runs the American wine distribution company today.
Masciarelli Marina Cvetić Merlot 2010 is the real deal; big, vivid fruit, will pair very well with barbecue, wild game, strong cheese, lamb. $33-38