Very deep purple color; black cherry, cassis, plum, rosemary, smoke on intense, polished nose; cherry, black cherry, blackberry, black plum, blackcurrant, chocolate, vanilla, cinnamon, mint on the palate.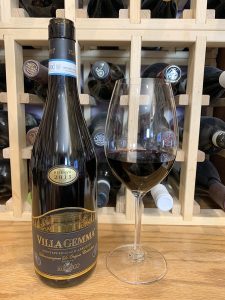 Dry; creamy, fine-grained tannins; balancing acidity. Dense, grippy, a very big wine. Medium-full body. This riserva ages in new French oak for 36 months. Three years of bottle aging follow. There is some vanilla and oak, but the fruit is so intense that oak is not overdone. The same forces tamp down alcohol burn, but this does clock in at 15% ABV. Long, lingering, drying, decadent finish. Very fruit forward, while the dark fruits do not come across as overripe.
Villa Gemma Montepulciano Riserva is the only Italian wine with 14 consecutive Tre Bicchieri awards and, more importantly, was the wine that established Abruzzo as capable of making extraordinary wines. The grapes come from the Colle Cave vineyard in Chieti, located above and behind the house of Gianni Masciarelli's grandfather, where the family started making wine in 1930.
The steep-sloped site consists of limestone, clay, and gravel. Vines originally were planted in pergola system (where grapes grow overhead), but now are trained in French Guyot system, which trains one or two fruiting arms—canes—along a main wire. Guyot works for low to moderate vigor vineyards. It accommodates fewer grape clusters per linear foot, thus producing more intense flavors. This reflects that. Grapes hand-harvested; vineyards farmed sustainably.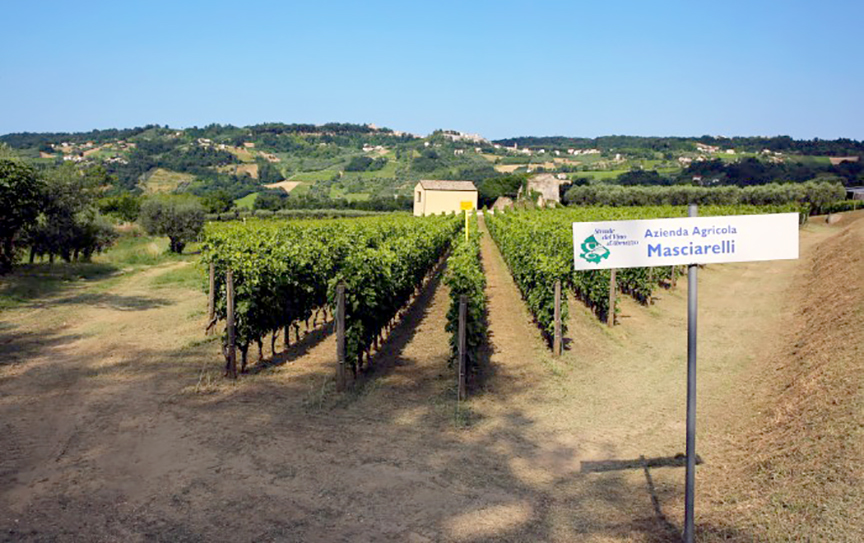 Montepulciano is classic grape of central Italy, most prominently in Abruzzo, where this wine is made. That is the grape. There is a Tuscan town (75 miles southeast of Florence) named Montepulciano where very highly valued Vino Nobile di Montepulciano is made—but that red wine does not use Montepulciano grapes, it uses sangiovese. That famous red wine gets its name because it only is made in the town of that name. Surely you are not surprised wine can be so confusing, especially in the Old World.
Masciarelli Tenute Agricole was founded in 1981 by Gianni Masciarelli, a promoter of modern wine production in Abruzzo. The center of the operation is the winery in San Martino sulla Marrucino in the province of Chieti and includes some 300 acres of vineyards and olive groves in 13 municipalities in all four provinces of Abruzzo in central Italy, east of Rome on the Adriatic coast. There also is a Masciarelli-restored castle, Castello di Semivicoli, which serves as hotel, restaurant, and houses various elements of the winery.
Gianni died in 2008, but his wife Marina Cvetic continues the operation as owner, winemaker, and operations manager. The winery has 18 labels and five product lines: Classic Line, Gianni Masciarelli, Villa Gemma (this is example), Marina Cvetic, and Castello di Semivicoli with an annual production of more than 2.5 million bottles.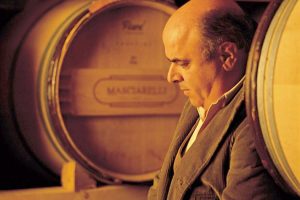 Masciarelli Villa Gemma Montepulciano d'Abruzzo Riserva 2015 rich, opulent, full-bodied, intense dark fruits. This is the top-of-the-line Montepulciano d'Abruzzo. Masciarelli is major player in quality wine, certainly in the Abruzzo region—a region often noted for wines of small distinction. Masciarelli, on the other hand, consistently proves the Abruzzo region in east-central Italy can run with the big dogs in the world of quality wines.
Montepulciano d'Abruzzo is wonderfully food friendly. Pair with almost any classic Italian dish—tomato-based pasta, spicy sausages, pizza; beef brisket; hamburgers and sliders; roasted pork shoulder; beef Bolognese; beef tacos; braised goat; shepherd's pie; meatloaf; veal; roasted winter vegetables; loaded baked potato; aged cheddar, parmesan, asiago, pepper jack cheese. $100-140