Pale straw color; white fruit, apricot, yellow apple, oak hints on the nose; apricot, yellow apple, peach, citrus, lemon, almond, oak on the palate.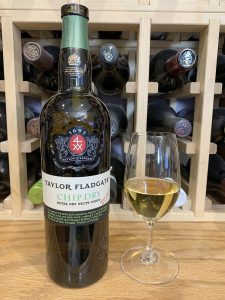 Extra dry, which means some sweetness, but not the intense sweetness in dark ports. Light acidity. Minerality and slight tang. This has the spirit you anticipate from porto—20% ABV—but in lighter style. This aperitif porto play. Very refreshing. While you think of most portos as fireside sippers while cold winds howl outside, this is different porto. Maker recommends serving over ice or with tonic water, which makes it a splendid warmer weather drink. Definitely. however, tasty and enjoyable any time of the year.
Taylor Fladgate—also just called "Taylor's"—first made this in 1934. It is made with dry white ports produced in the eastern area of the Douro Valley—the Douro Superior. Several white varieties are used, with Malvasia Fina carrying most of the load. David Guimarãens is the winemaker; he represents the sixth generation of Guimarãens to be involved in the porto business.
The wine is made in the traditional way, except the brandy to halt fermentation is added later than usual. That means more sugar converts to alcohol, producing a much drier port. Individual wines mature in separate oak vats for up to five years before the blending, with bottling occurring shortly thereafter.

Taylor Fladgate is classic porto maker. Established in 1692, Taylor Fladgate is one of the oldest founding porto houses. It only makes porto. They are renowned for their wood-aged portos and hold one of the largest reserves of rare cask-aged wines, from which it makes it acclaimed tawny portos. The house also was originator of Late Bottled Vintage and is the world's leading producer of that style.
Taylor Fladgate proudly remains family owned. The website notes: "Above all, Taylor Fladgate is an independent company in which some family members play a leading role in all areas of the firm's activity. The firm's long and unbroken family tradition has provided continuity and clarity of purpose, essential attributes of any great wine house. It has also allowed the skills and knowledge required to produce the finest ports to be constantly refined and added to in the light of experience as they are passed down from one generation to the next."
Taylor Fladgate Chip Dry Extra Dry White Porto is dry for a porto with admirable crispness and deliciousness. This is not a standard style, but well worth exploring. If you think of porto as a syrupy-sweet dessert wine—and some is, but by no means all—this is worth a sip. Taylor Fladgate suggests serving this on ice, topped with tonic water and a leaf of fresh mint. Pair with salted almonds or olives. Iced is much better way to enjoy this wine than simple in a glass. $19-25
Taylor Fladgate website, good video