Medium copper color; pink grapefruit, watermelon, blood orange, flowers on the nose; mandarin orange, melon, strawberry, watermelon on the palate.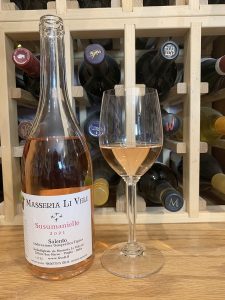 Dry; refreshing with good acidity. Tasty fruits with a bit of attitude and tangy bite on the finish. Medium body. Hints of tannin. Made in Puglia, a region in southern Italy with a rosé/rosado tradition. Bluish-black susumaniello grapes are some of the rarest wine grapes, growing almost exclusively in the province of Brindisi. It was first planted in Li Veli in 2000. In 2009, Li Veli began the first production of the grape as a varietal, including this rosé (rosato).  12.5% ABV
Vinified in the press for seven hours at controlled temperature. Fermented in stainless steel, then aged four months in stainless steel. The askos symbol comes from the Greek meaning decanter and dates from the 1st century BC. Masseria Li Veli's askos project focuses on native grapes and traditional alberello system of vine bush training.

Li Veli is located in the Salento region, the boot heel of Italy with the Adriatic Sea to the north and Ionian Sea to the south. In the first century BC, the land was inhabited by the Messapi, whose name signifies "people between two seas." In the 7th century AD the "Limite dei greci" was built which represented the boundary between the Lombards to the north and Byzantium to the south.
Masseria is Italian for "farmhouse." Li Veli was built by the Marquis Antonio de Viti de Marco at the end of the 19th century. The facility declined until the Falvo family revived the operation. Today's winery and vineyards have been owned by the brothers Edoardo and Alfredo Falvo, joined in 2018 by a cousin, Alessandro.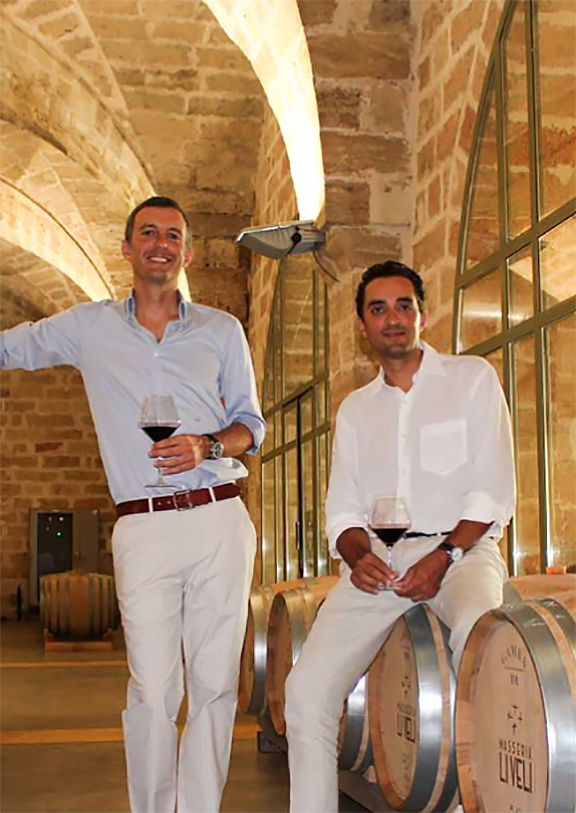 Masseria Li Veli Askos Susumaniello Rosato Salento IGT 2021 is a tasty, tangy effort made with the rare susumaniello grape. Interesting complexity amid the watermelon, strawberry, and mandarin orange flavors. Even a hint of tannin. Not your everyday rosé. Pair with pork; seafood and light fish. Cheese—feta, halloumi, mozzarella, cheddar, baby swiss, burrata, humbolt fog. $23-25