Pale yellow color; passionfruit, pineapple, citrus, lemon grass on the nose; peach, key lime, citrus, ruby grapefruit on the palate.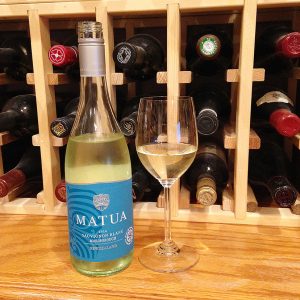 Dry (low residual sugar 3.8 g/L); crisp and fresh; somewhat light fruit flavors with white peach and key lime standing out. Super acidity (3.19 pH), making this an ideal wine with lighter foods. No oak. Stainless steel fermentation with time on "light lees" to provide the very nice texture and mouthfeel. Best served cold, which the bottle emphasizes by having an element of the Matua logo turn vividly blue when the wine is at the right temp. Maker recommends refrigerator temp—maybe 40-45 degrees, significantly colder than many whites.
The logo is a Ta Moko, a traditional tattoo applied to the face or sacred part of a native Maori tribesperson. Each symbol tells the wearer's story—family, tribe, place in society, and knowledge. There is an interesting explanation of the meaning of each symbol in the logo on the Matua website.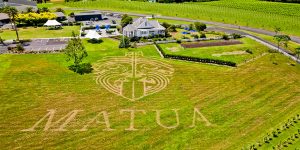 In New Zealand Maori language, Matua means "most senior one, head of the family." Bill and Ross Spence planted the first sauvignon blanc grapes in New Zealand in 1966. They came from winemaking family, but wanted to take New Zealand wine into modern directions and to higher levels. They and a handful of other NZ baby boomers with similar dreams succeeded beyond, perhaps, even their biggest dreams.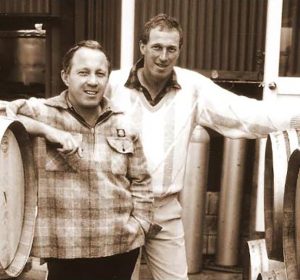 By the early 1970s, the Spence vineyards were mature enough to produce wine. They found an old orchard that still had a winemaker's license attached to an old tin shed; the license was essential, reflecting the antediluvian wine laws in New Zealand at the time. In 1974, they produced their first vintage of sauv blanc: 400 bottles. In the late 1970s, they brought in new partners and funding and began larger production from a new, modern winery.
In the 1980s, the Spence brothers moved operations to Hawke's Bay on the northern island's east coast and to Marlborough on the northeast tip of the southern island. The brand prospered, and in 2001 Beringer-Blass Wine Estates invested in Matua Wines; in 2013, Treasury Wine Estates finished purchasing the entire operation. Ross Spence retired in 2003, Bill in 2009, their mark and fortune made, although Bill continues to tour the world as Matua's international brand ambassador. In 2012, Matua won the New Zealand Producer of the Year award at London's International Wine and Spirits Competition. Other awards followed, and Matua is one of New Zealand's most internationally acclaimed wine brands.
Matua Sauvignon Blanc Marlborough 2016 is light sauv blanc built to play nice with lighter foods; not as assertive as other Marlborough efforts, it is very easy drinker at a great price. As a Treasury Wine Estates brand, this has very wide distribution. Serve cold—the label will tell you when it is right. Pair with fish, cheese platters, prawn risotto and other prawn dishes, garden salad. $12