Deep purple-black color; black raspberry, blackberry, plum, pepper on the nose; blackberry, ripe cherry, caramel, fig jam, allspice, chocolate on the palate.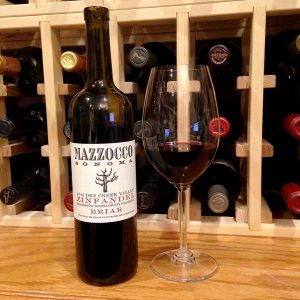 Dry; medium-full bodied, big fruity, big jammy zin, 15.8% ABV. Velvety tannins; incidental acidity; mellow in the mouth. There are jammy notes, but not Smucker's grape jelly kind. The jammy elements present most assertively on the finish, which is nicely long and emphasizes the ripe cherry and blackberry notes. Several reviewers noted a slight oiliness; I missed that but we may all be striving to wrap our word pictures around everything is going on at the finish, especially the ABV. Quality wines do not lend themselves to flaccid or clear-cut prose.
This is mostly zinfandel, but Mazzocco typically throws in five or six percent petite sirah; the winery website doesn't reveal the mix for this vintage on its website. Fruitiness and high alcohol gives this an illusion of sweetness, but that does not come from residual sugar. The sweetness illusion should be pleasing to those put off by drier, more tannic reds. This is a tasty wine that is very, very easy to slurp and smile.
Diane and Ken Wilson began in the Dry Creek Valley—one of Earth's sweet spots for zinfandel—as grape growers. They then seized on an opportunity to obtain Mazzocco, an undulating vineyard and winery sitting on a saddle between Dry Creek and Alexander Valley. They make their zins from specific vineyards—eight in all. Briar has gravelly loam and southwestern exposure along the Dry Creek Valley. Other vineyards include Maple, Pony Ranch, Smith Orchard, Stone Ranch, Stuhlmuller, Warm Springs Ranch, and West Dry Creek. If you can't find Briar, expect to find happiness in one of their other other offerings. And that is just Mazzocco—the Wilsons operate nine other wineries.
Antoine Favero is the winemaker with a suitably exotic backstory. He was born in the Champagne region of France. At an early age moved to a coastal fishing village in Peru with his parents. At age nine, his family moved to northern California's wine country. He attended UC-Davis, worked in premier wineries specializing in Bordeaux and Rhône varietals, and—oh, yes—zinfandel. Antoine believes wines are "nurtured" rather than "produced"—thus the emphasis on single-plot wines. Each Mazzocco wine presents a slightly different take on zinfandel.
Mazzocco Zinfandel Dry Creek Valley Briar, Sonoma County 2015 is big, high alcohol, load-of-fruit zin. It includes pretty much what people like in zin with the volume turned up past the midway mark on the dial. No harsh flavors, certainly no assertive tannins, loads of ripe dark fruit. This is the sort of zin you can easily drink solo as a "cocktail wine"—add neutral wine crackers, chip of cheese (brie is a good choice) and you are ready to go. If food-wine is your grail, pair with spicy foods, including those made with curry sauces; lighter meats such as turkey, pork, bacon, ham, barbecue beef, and lamb; manchego, cheddar, brie cheese; roasted tomato, caramelized onion, spiced apple. $22-29