Medium gold color; apple, pineapple, and pear on the nose; apple, pear, pineapple, white peach, hint of lemon on the palate.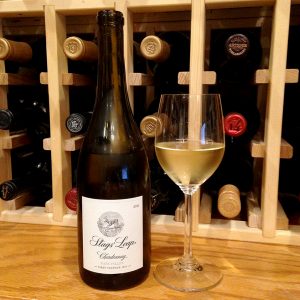 Dry; rich in the mouth, thanks to weekly battonage during six months of maturation. Vanilla and almond notes, but not this is not oaky or a butter bomb—partly aged in stainless and neutral oak, only 25% in new French oak, a welcomed trend in California chards. No malolactic fermentation (thus no butter), which permits the excellent fruit to show. Good acidity and minerality, which contributes to complexity, vibrancy, and depth. All in all, a superb way to showcase Napa chardonnay grapes.
Stags' Leap is one of California's oldest wineries. Horace Chase partnered with his uncle, W.W. Thompson, to found the estate on land where grapes has been planted by T.L. Grigsby in the 1880s. The manor house was built in 1890 and the first vintage was produced in 1893.
The Chase family got the Stags Leap name from a native Wappo legend of a stag leaping to escape Native American hunters. The mountains behind the property on the eastern side are known as the Stags Leap Palisades. While wine production was interrupted for extended periods—especially during Prohibition—wine grapes have been grown on the property continuously since its founding.
After 64 years of non-wine making (while still growing grapes for others), Carl Doumani resumed wine production at Stags' Leap in 1972. In 2009, Christophe Paubert joined Stags' Leap as head winemaker.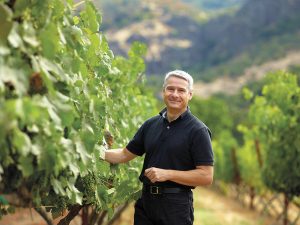 Today, Stags' Leap is owned by Treasury Wine Estates, is a major international player in the wine world, making wine in 12 countries, selling more than 35 million cases of wine a year, and generating sales of more than $2 billion. Labels you may recognize beyond Stags' Leap include Sterling Vineyards, Beaulieu Vineyard, Beringer, Chateau St. Jean, Greg Norman Estates, Lindeman's, Wolf Blass, and Treasury's flagship—Penfolds.
Stags' Leap Chardonnay Napa Valley 2016 is superb expression of Napa chardonnay. The makers allow the fruit to play center stage, bringing with it food-friendly acidity and impressive depth. Pair with fish cooked in herbs, chicken breast (not fried), turkey, pork loin, lobster, crab, scallops, shrimp, clams, oysters, soft goat and cow's milk cheese. This, unlike oak-and-butter chards, will not pair well with movie theatre popcorn or fried foods. $24-30