Medium ruby color; raspberry, strawberry on subtle nose; raspberry, plum, strawberry, cherry, licorice, white pepper on the palate.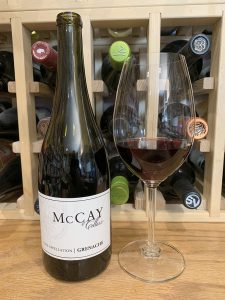 Dry; light-medium body; gentle tannin and acidity. Soft and smooth. No significant oak—the 100% grenache juice aged in neutral oak. Fermented with native yeasts.
Michael J. McCay is the owner and winemaker of the relatively small family winery. He began his adventure in Lodi AVA in 1994. The family launched their own label, McCay Cellars, in 2007. Current production is 4,500 cases. McCay emphasizes on zinfandel—this is Lodi, after all—but also has plantings of Rhône varietals: grenache blanc, grenache, viognier, carignane, cinsault, petite sirah, and syrah. McCay strives to showcase terroir and believes native yeasts are critical to achieve that goal.
McCay notes: "I believe through the practice of Native Fermentation the terroir of the vineyard has a better chance of showing off it's true characters. The process by which grapes ferment through Native Fermentation can involve thirty, forty, fifty or more different kinds of yeasts, the actions of these yeast are affected by pH, temperature, sugar levels, and thousands of compounds in the grapes. I also love the fact that it's so complex that each and every lot is a new adventure, which can lead to many different challenges. No doubt there are risks with Native Fermentation. I was looking for certain flavor profiles out of particular vineyards… 'all about the terroir'".
McCay Cellars Grenache, Lodi 2018 showcases the light delight version of grenache. Very tasty raspberry and strawberry surrounded by a penumbra of pleasure. This does not deliver complexity and depth, but it does deliver deliciousness and drinkability. Pair with roast beef, shepherd's pie; lighter cuts of beef; beef stew; sausage; pasta with zucchini sauce and pasta dishes in general. Cheese—mature, hard cheeses. $35-45
McCay Cellars has no photos of its operation on their website.