Medium copper color; raspberry, cherry, peach, violets on the nose; raspberry, tart cherry, white peach on the palate.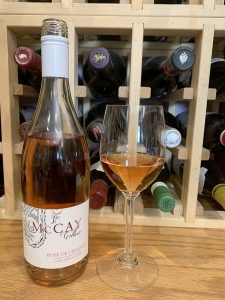 Dry; good acidity and delicious red fruits in Provence style. Fermented and produced in stainless steel using native yeasts. Single vineyard wine, a feature of McCay offerings. There is not much information about the wine—no citing for acidity, not even identification of the particular vineyard that produced the wine. It is a tasty, quality rosé. 12.5% ABV
Michael McCay and his family have farmed in the Lodi AVA for more than 25 years. He began producing his own wine in 1994 with a small batch from the TruLux Vineyard. The family launched their own label in 2007. It is a relatively small producer—4,500 cases a year—and a family operation. The winery is most noted for zinfandel, including some vines that are more than a century old. McCay also believes Lodi and his property are suited for Rhône varietals, including this cinsault; they also produce a pure red with their cinsault grapes.
Native fermentation is a McCay signature. The website explains: "I believe through the practice of Native Fermentation the terroir of the vineyard has a better chance of showing off it's true characters. The process by which grapes ferment through Native Fermentation can involve thirty, forty, fifty or more different kinds of yeasts, the actions of these yeast are affected by pH, temperature, sugar levels, and thousands of compounds in the grapes. I also love the fact that it's so complex that each and every lot is a new adventure, which can lead to many different challenges. No doubt there are risks with Native Fermentation. I was looking for certain flavor profiles out of particular vineyards…'all about the terroir'."
McCay Cellars Rosé of Cinsault, Lodi Appellation 2019 is a very nice Provence-style rosé from quality Lodi producer. Red fruits—follows the cinsault varietal profile very closely—fermented with native yeasts. "Native fermentation" is a signature strategy at McCay. Wine is available from the winery online, likely harder to find at your wine store. Works very nicely as aperitif or sipped on its own so you can enjoy the beautiful color, tasty fruit, and velvety mouthfeel. Pair with salads, especially one that contain some fruit; strawberries on their own; Provence-style stuff vegetables; salads with chicken or salmon elements; seafood—seared salmon, lobster, tuna; lamb cooked rare; pasta dishes and risotto; brie that is not too runny; parmesan cheese. $35
The McCay website does not offer photos of its principals, vineyards, or operation. It is very low-key, family winery.