Medium ruby color; cherry, raspberry, clove, lavender, crushed stone on the nose; black cherry, black raspberry, plum, cedar, vanilla, spice, minerality on the palate.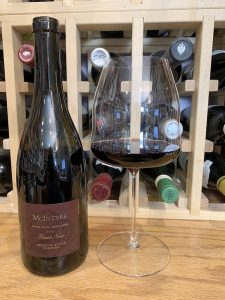 Dry; elegant, well-structured, balanced interplay of sleek, mild tannins and acidity. Medium body. Smooth, silky mouthfeel. Time in large glass helps develop more smoothness and depth. Nice lift on the finish. The Santa Lucia Highlands is known for ripe, powerful wines—this has the ripeness but is delicate, demure, as a good pinot noir should be. 14.5% ABV
The grapes for this effort come from vines planted more than 40 years ago, making it the oldest pinot noir planting in Santa Lucia Highlands AVA. The vines grow on their own roots, a rarity in California (and a rarity in many vineyards in the world). The crop was thinned to a maximum of three tons per acre to concentrate flavors. Row orientation for the two vineyards—the McIntyre Estate Vineyard and the Escolle Road Vineyard—primarily is north-south to provide even sun exposure throughout the day.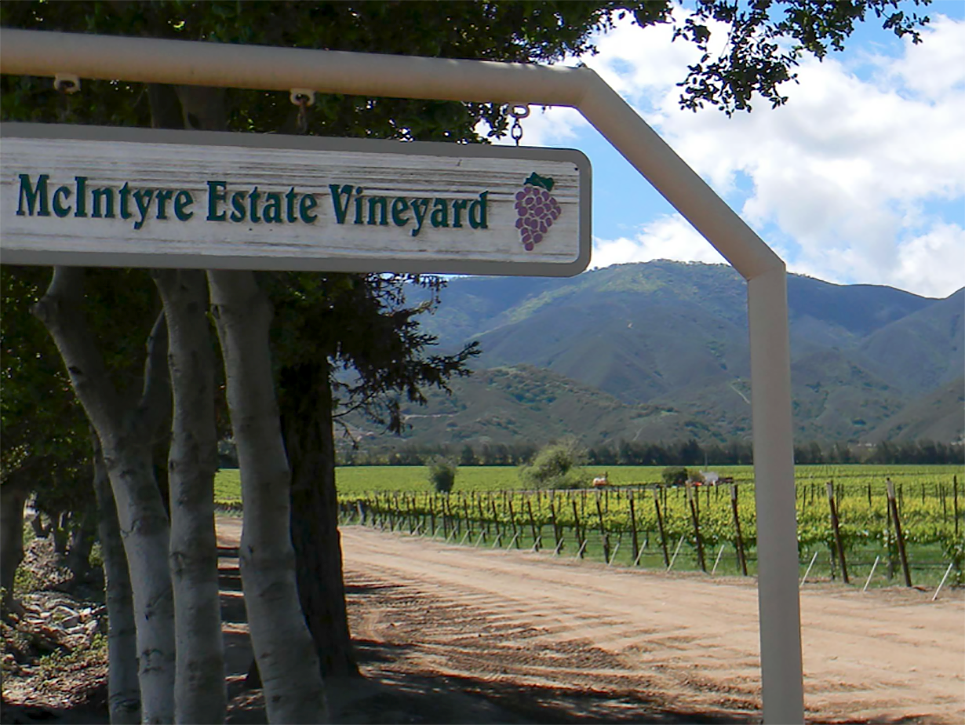 The McIntyre vineyards are located in the central part of the Santa Lucia Highlands, the most highly regarded appellation in Monterey County. The vines were planted by the McFarland family in 1973. Early bud-break and fruit set are advantages to the location. Canopy management and yield reduction helps focus the vines on quality, not quantity. Low yields are requirement for pinot noir to achieve quality. McIntyre practices sustainable viticultural practices through the use of biodiverse systems and cover crops.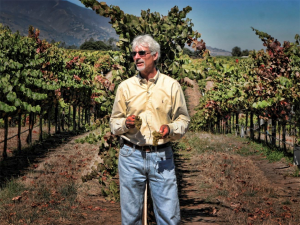 Steve McIntyre is a founding member of the Central Coast Vineyard Team and one of the originators of the SIP (Sustainability in Practice) Certification. His influence reaches far beyond his vineyard. He has planted more than 20% of the entire Santa Lucia Highlands AVA, farmed nearly a third of its vineyards, and vinified hundreds of wines. He purchased the property in 1987 and began a program of improvement in the vineyard and winery. The California Association of Winegrape Growers named him Grower of the Year in 2013.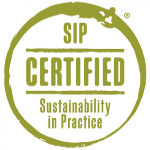 McIntyre Pinot Noir Santa Lucia Highlands, McIntyre Estate Vineyard 2017 is fresh, polished, sophisticated, balanced with depth and complexity. Delicious, ripe fruit. Lush, silky mouthfeel plays well with the ripe, almost ethereal flavors. You can tell this was made with skill and perception in both the vineyard and the winery. Outstanding wine; great QPR (quality-price ratio).
Pair with lighter beef; beef bourguignon; veal; poultry, including duck; salmon and other fatty fish; gruyère, mature gouda, medium cheddar, Dutch edam, manchego cheese. $39-48