Medium ruby color; cherry, strawberry, cassis, cedar on the nose; red cherry, ripe strawberry, plum, cassis, blackberry, chocolate, vanilla, oak on the palate.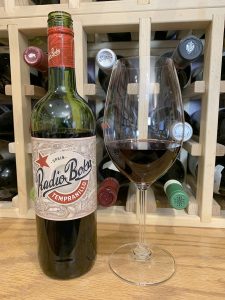 Off-dry; very ripe fruit and 15 g/L of residual sugar. Easy-going tannin with some balancing acidity, so those elements do not get in the way in this massive fruit-forward attack. Big, rich, red, jammy. Medium body. Lush mouthfeel. Smooth, easy drinker. 13.5% ABV
Tempranillo typically is not made in a style this sweet. Radio Boka clearly saw there was a large niche for this style—Yellow Tail, Apothic sell millions of bottles—and went for it. This is packaged and marketed as a lifestyle wine, clearly aimed at a young audience not into sophisticated, expensive wines. Hey, I was there, too, once, so this is not a put-down. I imagine Radio Box would take those comments as a compliment.

There are not photos of bucolic vineyards or canyons of stainless steel fermentation tanks on the website. Nor descriptions of the winery owners or the winery corporation. There are recipes for Radio Boka "cocktails," which shows you where this brand is going.
The cocktail for this effort: 750 ml Radio Boka Tempranillo, 300 ml sparkling water, 120 ml lemon juice, 120 ml strawberry syrup, 60 ml rose water. Place all the ingredients in a punch bowl or two pitchers, stir. Fill glasses with ice cubes, pour, garnish with rose petals.

Hammeken Cellars is the company behind this brand. They are open about their approach on their website: "We are a modern and innovative producer of Spanish wines, with a portfolio focused on branded products developed through the understanding of consumers' needs." They have a dark red tempranillo, by the way, named "El Gringo." Another: "I'm Your Organic Red." Hammeken knows its market; they export more than 1.5 million cases of Spanish wines a year to more than 30 countries.
Hammeken provides its vision of Radio Boka on its website: "Radio Boka is more than just a wine. It's an attitude, a lifestyle, where friendship and the passion for music meet. You enjoy them with the people you love. It's about excitement, joy, crazyness, but also about enjoying the here and now, and uncomplicated moments. We won't tell you how or when you should drink Radio Boka – but we will tell you you should ENJOY it, SHARE it and LIVE it to the max. This is what life is about, after all…"
Radio Boka Tempranillo 2019 is soft, sweet, eeeeesay drinker. Sweeter expression of tempranillo than usual. More a beverage wine than one elicits discussions of its nuances and proclivities. I do not do negative wine reviews—if I do not like a wine, I do not write about it. This is not bad wine for what it is as a wine. And there will be plenty of people who find pleasure in this pour. Radio Boka Tempranillo also comes in a box version, which is its natural forte and what their marketing pieces push. Decent patio wine, solo sipper, cocktail wine, frat house wine (legal drinkers only, of course). Pair with red meats; pasta with red sauces; lamb; veal; finger foods like cheese nachos with hot sauce. $8-10