Deep ruby color; black cherry, cedar, oak spice on the nose; black cherry, blackcurrant, raspberry, dash of vanilla, graphite on the palate.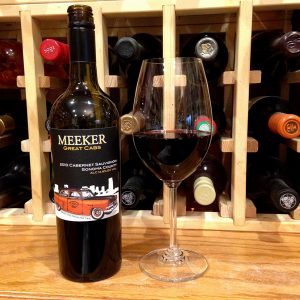 Dry; somewhat relaxed tannins after eight years, but still has cab punch on pop and pour; medium-full body, also may be affected by the eight years. Retains nice fruit; smooth easy drinker.
Meeker is a quality maker, as this effort demonstrates to me again. I have been visiting older bottles in my wine refrigerator recently to see how they've done and because it is a sin to hold a bottle well past its prime. You very likely will not find a 2010 Meeker at your local store—and if you did, I could be concerned about how it was stored—but you likely will be able to find a Meeker offering. They do zin and chardonnay quite well, plus some others, including this cab. Give them a swirl.
I think this was Meeker's entry-level pour and it appears they do not make it any more. Their most famous bottling is Winemakers' Handprint Merlot, a bottle where each bottle is unique because the label is a colorful handprint. Yes, the folks in the winery dip their hands in paint and grab the bottle. Those efforts will cost you around $50 for a 740 ml, and I can attest it is worth the splurge.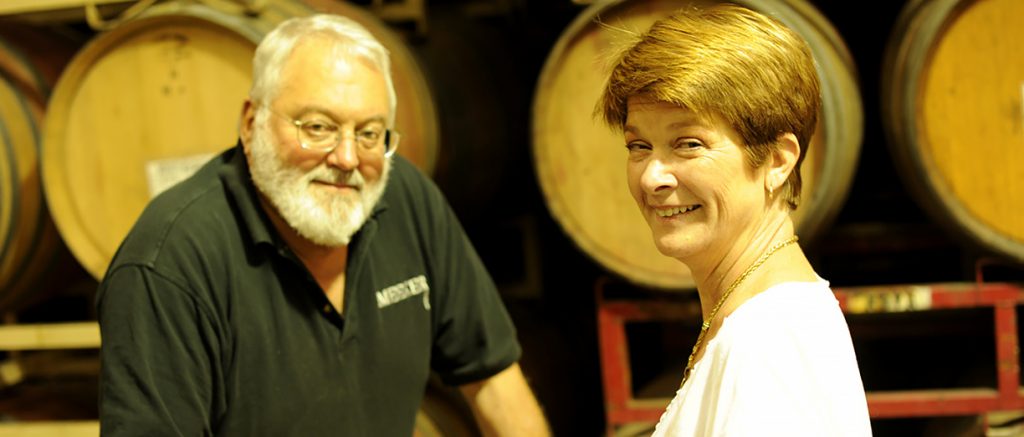 Meeker is another California entertaining entertainment story where a mogul decided he wanted to be a wine maker after showbiz success. Charlie Meeker was an attorney, then a film producer, then president of Metro-Goldwyn-Mayer. As the twentieth century came to a dénouement, Charlie and his wife, Molly were lured by the siren calls of the vineyard. They built their wine business, expanded their vineyard and winery, finally settling in Healdsburg.
The website notes: "The Meeker Vineyard tasting room is currently located in the 113-year-old Geyserville Bank building in the farm town of Geyserville, about six miles north of Healdsburg between Alexander and Dry Creek Valleys. In 2001, the Meeker tasting room was cited by The Wall Street Journal as one of the most enjoyable wine tasting experiences in all of Napa and Sonoma Counties."
Meeker Vineyard is a family operation. Molly is president and in charge of marketing and accounting. Charlie is CEO and co-winemaker. Their children Lucas and Kelly (and her husband, Ty) also participate in the operation in various capacities.
Meeker Great Cabs Cabernet Sauvignon Sonoma County 2010 is solid cab, easy drinker, with mellowed tannins after eight years. This is more review of Meeker than a review of their 2010 offering since it unlikely you can rush down to the supermarket, or even the high-quality wine store, and pick up a bottle. I can recommend Meeker as a quality maker. Pick up one of their offerings and stick it in the back of your wine fridge for eight years, as I obviously did. You will not be disappointed. I also know from other experiences, you can enjoy it the day you buy the bottle. Pair with all the usual cabernet sauvignon suspects, but it also nicely works with a neutral cracker and maybe a square of hard cheese while reminiscing about the old days. $15 range, but this effort likely not available.