Deep ruby color; plum, forest floor, cherry, slice of meat on the nose; red berries, purple fruit, black plum, chocolate, pinch of pepper, light oak on the palate.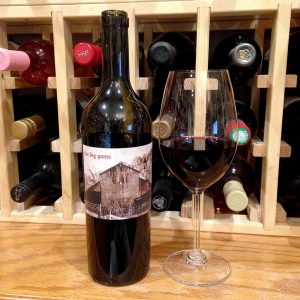 Dry; full bodied, layered flavors. This is a Paso Robles Adelaida District blend of 39% cabernet sauvignon, 37% syrah, 15% petit verdot, 9% malbec. Dense, unctuous tannins I found so enjoyable I did not do my standard decanting routine after the pop and pour. Flirts with jammy, but does not plunge into the grape jelly morass. If you enjoy big, juicy red wines, you will enjoy this. Plenty of rich fruit and somewhat restrained alcohol—13.8%.
This uses 63% Bordeaux grapes and 37% Rhône, the highest percentage of Bordeaux grapes The Farm has used in their The Big Game blend. The syrah (Rhône) adds an element wildness that plays complexly with the button-down nature of the cab (Burgundy). The grapes come from selected blocks and rows in vineyards in Westside Paso Robles; The Farm does not own vineyards, but it does manage the blocks and rows of vineyards that supply their grapes.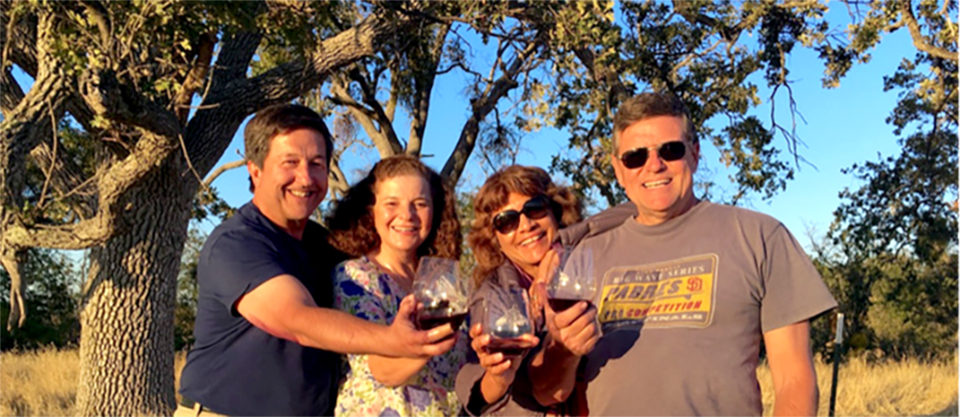 Paso Robles strives to compete with its more famous neighbors to the north, Napa and Sonoma, and this helps their case by showcasing classic Paso Robles big, hedonistic fruit. The Farm is an effort uniting Santiago and Mercedes Achaval—Santiago is credited as a malbec pioneer in Mendoza—and Jim and Azima Madsen, who are in the corporate world in San Diego. The long-time friends visited Paso Robles together in 2008 and immediately decided to start a winery. The Farm's first vintage was 2009; they produce about 700 cases a year.
The winery's website proclaims its philosophy (in part): "Our goal is to make small amounts of fine red wines with the very best fruit from Westside Paso Robles (Adelaida and Willow Creek Districts). We will always remain a small winery working with ultra-low yields of special fruit. We believe that the work done in the vineyards is critical.  Year round, we walk the vineyards, feeling the slant of the sun, the feel of limestone soil, the durability of the vines. This terroir, limestone and microclimates, combined with custom farming, where each vine is individually tended to produce but a few clusters so that our wine will get the fullest flavor of the berries." You can taste the extra effort in this bottle.
The Farm Winery is a private residence with no tasting room, however tasting are offered at the 15C Wine Shop and Bar in downtown Templeton. Tasting is by advanced appointment only and should be arranged a week in advance. More details can be found on The Farm Winery website.
The Farm Winery The Big Game 2014 is intense without being overpowering; delicious, near-jammy with big fruit and tasty tannins. It is splendid exemplar of Westside Paso Robles fruit. Pair with almost any red meat, meatloaf, hamburgers and pizza—plus enjoy solo with neutral wine crackers and hard cheese cubes. $72-75