Deep gold color; melon, apple, tropical fruit on the nose; apple, tropical fruit, melon, mango, apricot, butterscotch on the palate.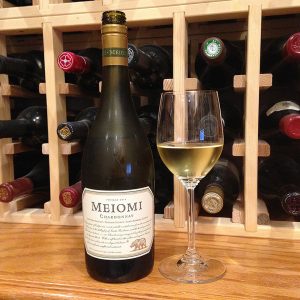 Grapes sourced from California coast: 37% Monterey County for stone fruit flavors; 36% Sonoma County for apple notes and minerality; 27% San Barbara County for tropical fruit flavors. Rich; ripe fruits; full, round, and creamy in the mouth thanks to 100% malolactic fermentation. Blend of juice aged in stainless steel and seven months in French oak. The result is suggestion of oak and vanilla, but lively fruit flavors, too, giving this depth and complexity. Minerality asserts on the finish; OK acidity (3.8 pH).
Meiomi means "coast" in native Wappo and Yuki tribes, and Meiomi focuses all its production on fruits from the three areas used in this creation. Constellation Brands bought the brand from founder Joe Wagner for $315 million in 2015. (Wagner is the grandson and son of the owners and winemakers of Napa's icon cab, Caymus.)
The rap on Meiomi is some of the fruit is second-level of quality, also the winery decision steer it for mass market tastes only. Perhaps. This chardonnay should please many; the butterscotch notes will entertain those who enjoy a hint of fruit sweetness, especially in the mid-palate and finish. Overall, this is nice, clean, full body, easy drinking expression of fruity California cab beloved by many. I enjoyed this much more than Meiomi's pinot noir, which came across as an over-extracted, over-done, heavy California PN; a pinot for men who really want to be drinking cab. This chard does not suffer from those decisions in fruit purchasing or winery procedures.
Melissa Stackhouse is the winemaker today, now that Wagner has gone on to found other labels. Stackhouse is a well-regarded UC-Davis grad who worked at La Crema, Jackson Family Wines, J Vineyards and Winery, and Clos du Bois. Constellation Brands did not become one of the world's largest wine and beer companies by not knowing how to play to consumer tastes. With this chardonnay, Stackhouse delivers a palate-pleasuring pour that will punch the chard card for many imbibers.
Meiomi Chardonnay 2014 is a classic California chard that impressively does not go down the butter bomb and oak monster rabbit hole. Rich and complex, intriguing butterscotch notes, certainly can serve as a "cocktail" wine pour, even if its richness, body, and lack of tongue-cutting acidity serves it less well when pairing with food. $17-21