Dark gold color; oak and bourbon barrel dominates the nose, some vanilla and coconut on the sidelines; green and yellow apple, pineapple, peach, hint of lemon, oak, and oak, and bourbon oak on the palate.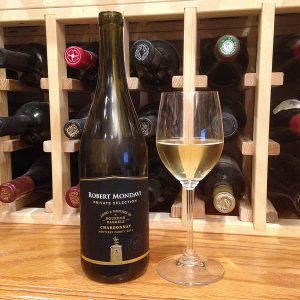 Although only a portion of the wine is aged two months in Kentucky bourbon oak whiskey barrels, the effect dominates. There is caramel and vanilla galore, a result also of oak aging for the juice that did the high-char bourbon barrel detour, plus the time in wine oak barrels by the rest of the juice. Plenty of butter and oak throughout, no matter the source. Round, full, faint acidity, creamy. Wow, the whiskey barrels just dominate with oak, vanilla, baking spices and whiskey. This is whiskey barrel first and chardonnay distant second. The oak monster as a drunken Godzilla with a Kentucky accent. The chard is just the carrier for the oak, butter, vanilla, and oak whiskey barrel flavors. Did I mention there is a whole lotta oak going on here? OK, just wanted to make sure I did. This is polar opposite of, say, a French chablis or stainless steel effort. Not polar opposite, there is planetary separation here. Earth and Saturn.
No doubt some wine drinkers will go crazy over this style and flavor. If you lust for big oak, big butter, and—wait for it—whiskey!—this is made especially for you. The difference between this and a stainless steel, precise chard is the difference between Audrey Hepburn and George Peppard in Breakfast at Tiffany's and Pamela Anderson and Tommy Lee speeding down the road and recording what they are doing on a hand-held camera.
Robert Mondavi Winery is a master at large-scale production of wine that expresses a variety of grape or a style of winemaking, a legacy of the founder, Robert Mondavi, who revolutionized wine making and marketing. Constellation Brands owns Mondavi now, but the affordable quality mission remains. This wine is a foray into gimmickry that surely will work for some and is example of how Constellation explores all levels of market tastes (that is how you become one of the biggest wine companies in the world). Robert Mondavi Private Selection Bourbon Barrels Chardonnay definitely is not a pure expression of chardonnay. It is vivid example of what oak and innovation can do to wine, forget about the grape. The question for you is—do you really want to go there? Surely some will amorously embrace and be thrilled with the result.
Robert Mondavi Private Selection Bourbon Barrels Chardonnay Monterey County 2015 is niche wine you will either love or hate. Big oak, really big bourbon barrel influence, vanilla, oak spice, maybe some chardonnay grapes in there somewhere—hard to tell. This pour is not for me, but certainly will be the bomb for others. That is what makes the world of wine so fascinating and exciting. $11-14
Robert Mondavi website
Link to my review of Mondavi's bourbon barrel-aged cabernet sauvignon