Medium ruby color; cherry, blueberry, cocoa, oak on the nose; cherry, raspberry, plum, cherry cola, earth, oak spice on the palate.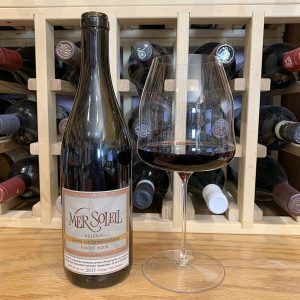 Dry; nicely structured and tasty tannins. Gentle, balancing acidity. Plush and pleasing in the mouth. Soft, rounded, medium bodied easy drinker. Extended smooth finish almost vanishes, then you realize it is still there. Then you realize it is still there again. Impressive. Very laid back pinot, reflecting owner and winemaker Charlie Wagner's approach to this label, which also makes a chardonnay. Wagner and his family are the folks behind Caymus, Belle Glos, and Conundrum; 14.8% ABV.
Mer Soleil combines "sea and sun" to reflect the Santa Lucia Highlands terroir. The Wagner vineyards in the Santa Lucia Highlands benefit from the legendary cooling breezes off Monterey Bay. The almost daily breezes engender higher phenolics and deeper, nuanced flavors. I get refined elegance with each sip, which is what pleasures me most when pinot noir is done in this style and with angel-touched grapes.
The Wagner family has deep roots in Napa, and now in wine worldwide. The website has an excellent video story. The website notes: "The Wagners come from a long line of grape growers and winemakers in Napa Valley, with a farming tradition dating back to the 1850s. Chuck Wagner's parents, Lorna Belle Glos and Charlie Wagner Sr., were both born to families that helped shape Napa Valley's wine industry in the late 1800's and beyond, through their hard work, dedication, pioneering spirit and resilience in the face of adversity. They are the Glos, Stice and Wagner families."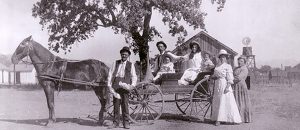 The story has a charming aspect. From the website: "Charlie Wagner and Lorna Belle Glos grew up just one mile apart in Rutherford and their families knew each other. When Charlie and his high-school sweetheart Lorna eloped to Reno, Nevada, to marry in 1934, three Napa Valley pioneering families were brought together. In 1941, they purchased 73 acres just a few hundred yards from the Wagner 'home ranch,' where they planted fruit orchards. One of their first acts on their new land was to also plant 10 acres of wine grapes."

The website is well worth a visit for the entire story. Caymus is the Wagner family superstar, but their move into Monterey and this effort deserve attention and certainly will bring you pleasure. Joe's son,
Mer Soleil Santa Lucia Highlands Reserve Pinot Noir 2017 is balanced, laid back. Reserved fruitiness with nice complementary tannin and acidity in demure package. Smooth, subtle, approaching ethereal. This is more in Willamette Valley style than fruit-pounding Cali PN. Pair with salmon and other rich seafood; lighter beef dishes; poultry; game birds. I would avoid assertive fare. A rich, heavily marbled, mesquite-grilled steak—for instance—but this will be sensational with more refined entrees. $32-50
Wagner family of wines website; very nice videos