Pale ruby color; cherry, raspberry, plum, clove on the nose; cherry, raspberry, redcurrant, plum, blackberry, minerals, earth on the palate.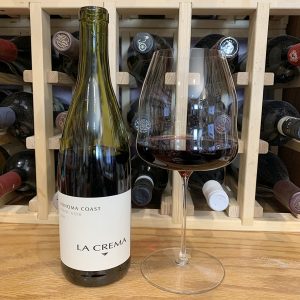 Dry; some assertive tannin for a pinot noir; balancing acidity. Nice texture in the mouth. Drinks like a California pinot noir, which means bigger fruit and body than an Oregon effort, but not nearly as emphatic as other Cali PNs. This splits the difference, capturing the desirable qualities of both. Medium-plus body. Made with grapes from across Sonoma coast, including Carneros and Russian River.
Fermented in open-top tanks with pump over three times a day. Finished for nine months in 25% new wood. The oak plays the appropriate supporting role, not trying for the lead. This is La Crema's entry level pinot noir, but delivers the quality you anticipate from the maker; 13.5% ABV.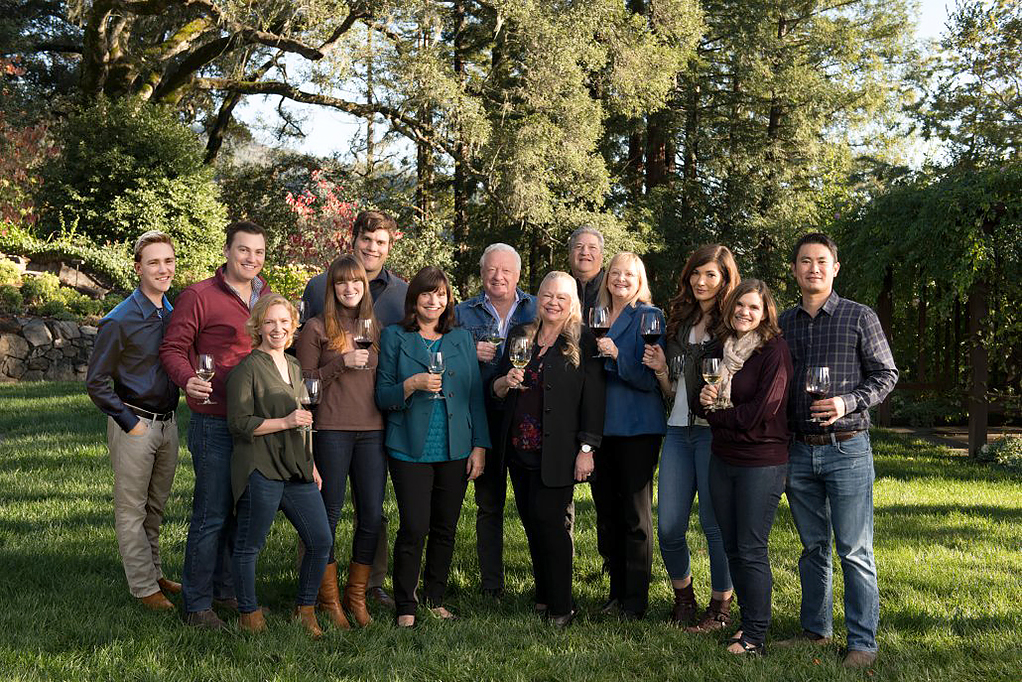 La Crema is a family-owned estate in the Russian River Valley in Sonoma and Mendocino counties. Owners Laura Jackson-Giron and her sister, Jennifer Jackson Hartford, founded the winery in 1979 with commitment to quality. They are daughters of Jess Jackson, and owners of Jackson Family Wines, a major world player in the wine world. Barbara Banke, Jess's widow, is the chairperson of Jackson Family Wines. Son-in-law Don Hartford is the vice chairman.
The La Crema operation specializes in Burgundian-style pinot noir and chardonnay. It also has a robust a culinary-restaurant program. There are tasting rooms in Healdsburg and at Saralee's Vineyard at La Crema Estate in an historic barn.
To add to the warm fuzzy, La Crema has major commitment to sustainability. Composted pomace (pulp remaining after crushing grapes) is returned to the soil. Recycled material is used in vine trellises. Recycled water provides irrigation. Bird habitat boxes attract owls, bluebirds, and falcons to nest and patrol the vineyards. Encouraged insects reduce need for pesticides (integrated pest management). There is focus on energy efficiency with solar panels. The estate vineyards are CCSW-certified (Certified California Sustainable Winegrowing).
La Crema Sonoma Coast Pinot Noir 2017 is delicious easy drinker, consistent vintage to vintage. Excellent example of a well-made commodity pinot noir. Excellent QPR (quality-price ratio). This is not soaring Burgundian or etherial Willamette Valley, but it is very good for a fraction of those price tags. You can drink this solo with wine crackers, maybe some cheese or charcuterie. For your meal, pair with roasted and braised meats; beef stew; pan-seared pork belly; spiral-cut ham; bacon; pork chops; slow-cooked lamb chops; smoked or seared salmon; breaded cod; smoked turkey; prosciutto and mushrooms; almonds; gruyère, swiss, provolone, brie, camembert cheese. $22-25
La Crema's very informative website; worth a visit. Many very nice videos.