If you drink red wine during this season of feasts, you likely drink cabernet sauvignon or merlot or a blend of the two.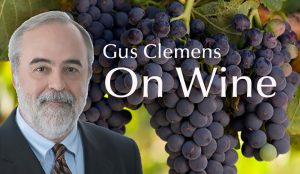 Other reds may compete for your attention, but cab and merlot rule the red wine world—those two grapes and red blends capture more than one-third of the market. In comparison, chardonnay, the best-selling single varietal, achieves less than 20 percent.
Both cab and merlot began life in the Bordeaux region, named for the port city on the Garonne River in the Gironde department of southwestern France. Both are great with food, especially red meats, but—although they are sibling grapes—they are different wines.
As it came to pass, cab found its best expression in the more gravely soils on the river's left bank, while merlot is happier in the clay soils of the right bank. You can enjoy one or the other, but Bordeaux achieves its best as a blend of the two, often with a couple of other grapes adding character and depth.
Cab is more aggressive with much more tannins, making it powerful and hearty, providing backbone to a blend and making it more age-worthy. It is best to decant young cabs and young cab-led blends. Cab provides black cherry, blackcurrant tang, bell pepper, and baking spices. Cabernet sauvignon is the big boy wine, the one advanced red wine drinkers rhapsodize about to the bewilderment of newer ranks of red wine sippers.
Merlot, also known as "the little blackbird" because of its dark blue skin color, is softer and more subtle. It is juicy and provides flavors of plum, raspberry, chocolate, and sugar plum. Merlot is the affable, crowd-pleasing easy drinker, especially for newcomers to the blandishments of red wine.
The grapes complement each other. Cab-led blends have tannins with more grip and black fruit and peppercorn notes. Merlot-led efforts have smoother tannins and more red fruit notes.
Cabernet franc is a standard third grape in many cab-merlot blends. In the fascinating world of wine, research shows cabernet franc is the parent grape of both cabernet sauvignon and merlot, making those blends a family affair.
Last round: I never drink wine to forget my problems. I drink wine to celebrate the fact I survived my problems.
Email Gus at wine@cwadv.com. Facebook: Gus Clemens on Wine. Twitter: @gusclemens.