Medium cooper-cherry color; strawberry, guava, peach, flowers on the nose; raspberry, tart cherry, watermelon, redcurrant on the palate.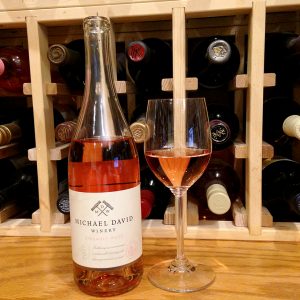 Dry; crisp with solid acidity (3.3 pH) that asserts on mid-palate and finish. Michael David achieved excellent acidity with this effort; typically cinsault has less acidity. Vivid, tart fruits. Low tannin (a cinsault characteristic); no oak—100% fermented and finished in stainless. The name of the grape can be confounding at first, but the pronunciation is simple: "sin – SO" in the U.S. and "san-SO" in France. Light-medium body; 13.5% ABV. It works on its own here, but in the southern Rhône you find it more often as fourth grape in a GSM blend (grenache, syrah, mourvèdre).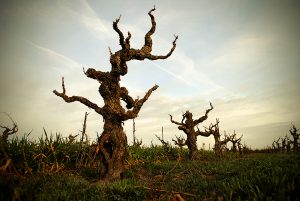 This wine comes from really ancient cinsault vines planted in 1886 by Joseph Spenker. The Bechthold vineyard is the oldest producing vineyard in Lodi and its ancient vines are among the oldest cinsault plantings in the world. The vineyard today is organically farmed by Michael's son, Kevin Phillips, carrying on a family heritage. Michael and David Phillips family members have farmed in the Lodi area since the 1850s. Vines are head-trained and dry farmed just as done originally by Spenker.
Michael David winemakers create two separate rosés to build this wine. The first style is harvested early—amping acidity—then destemmed and whole berries are pressed—accentuating bright flavors. The second batch is made in the saignée style where a portion of the red wine is bled off (saignée is French for "bled") after the juice has had limited contact with the skins. This produces wine that is light or bright pink and delivers a different set of flavors. The two styles then are married to produce the final delicious blend.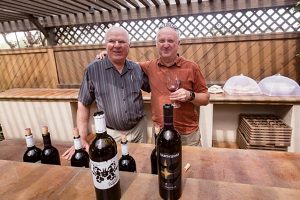 Michael and David Winery is a combination of two brother's names, Michael and David Phillips. Kevin and Melissa Phillips Stroud, the sixth generation, work the vineyards today, while the brothers Michael and David continue to run the show. All the 1,200 acres of managed plots and 800 acres of family-owned vineyards are third-party certified sustainable. Since 2011, 100% of Lodi-grown fruit crushed at Michael David is certified sustainable. Robert Parker wrote about their operation: "Year in year out, this is one of the best value wineries in the entire world." How many thousands of wineries would kill to put that line on their their resume?
Michael David Winery Cinsault Rosé, Lodi 2017 is very tasty, well-made rosé made from somewhat obscure grape from one of the—maybe the—oldest vineyard of the cinsault varietal on earth. No small thing, especially since Michael David do so well with the grape. Vivid fruits. A rosé that can hold its own with aggressive fare and, if you have the palate, enjoyed sipped solo because you like assertive wines, or at least somewhat assertive since this is, after all, a rosé. Call this a muscular rosé, then find it and see if Michael David have conjured yet another game changer in the wine world. This can pair with robust flavors: grilled or smoked salmon; barbecued ribs; grilled chicken; spiced vegetarian Indian cuisine; Mexican chorizo sausage; but it also works with more delicate dishes. Decidedly versatile. $25-26