When wine writers write about "minerality," what in heck are they writing about?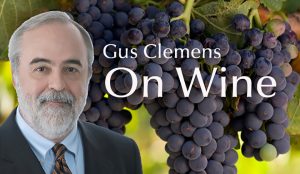 It is imprecise term with little agreement on exact meaning. It is flavor element you know when you taste it and references non-fruit, non-spice, non-herb flavors. It can be an aroma and a taste, often both, and a texture.
Much of minerality comes from acidity—the lower the pH of a wine, the more the minerality. Types of soil where the vines grow influences minerality. It is an element engendered in part by that bedeviling French term "terroir." Sauvignon blanc, riesling, Chablis (chardonnay), and syrah/shiraz wines garner the most minerality references, but almost all grape varieties can express some minerality.
Minerality expresses itself most vividly in white wines grown in cool climates on rocky or gravely soil. Limestone is major terroir element for wines with minerality. Champagne's soil is mostly chalk, another minerality indicator. Vines on Greek island of Santorini grow on volcanic ash and pumice and are watered by salt-laden fogs (there is virtually no rainfall on the small Aegean Sea island). Santorini wines have minerality you can't miss.
Clay soils retain water and are dominated by calcium carbonate (creating marl), so minerality is not as common for wines from such vineyards. Vineyards with clay soil, however, can be interspersed with gravel, shale, even flint. Each variation contributes different versions of minerality. So clay soils also can produce wines with minerality.
Geologists and soil experts caution that there is no direct connection between minerals in rocks and mineral elements in the soil. Same time, high acidity is hallmark of minerality, and limestone and chalk soils are alkaline, perhaps promoting minerality.
Yes, the term is messy. But the joy of wine is it is art, not lab coat science.
Tasting notes:
• Indaba Sauvignon Blanc Western Cape 2013: South African; nice tangy acidity and minerality. $11
• Qupé Modern White Central Coast Blend 2014: White peach, ripe fruits; dry, bright in the mouth, fresh minerality; chardonnay, viognier, and marsanne. $14-17
• Artemis Karamolegos Santorini Dry Assyrtico 2014: Excellent Greek wine made using 90% assyrtiko grapes; vivid minerality. $21-24
Last round: One glass of wine is just right; two glasses are too many; three glasses are too few.