Rich medium yellow-gold color; bread, honeysuckle, orange zest on the nose; white peach, brioche, almonds, vanilla, nectarine on the palate.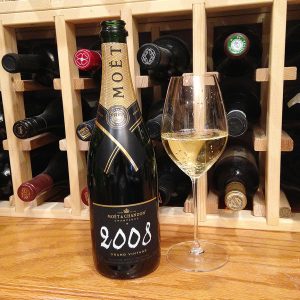 Rich and full in the mouth; vibrant acidity provides focus for the bread, white fruit, citrus tastes, and aromas. Moët & Chandon's vintage-dated bottles are unusual because they include the press from a single vintage—most Champagne is a blend of vintages in order to maintain a consistent house style; most of Moët & Chandon production is non-vintage. When there is an outstanding vintage, however, the house produces a Grand Vintage. Since 1842, there have only been 69 vintage champagnes produced, or one about every three years. The previous vintage release was 2006. As you can tell by the date, Moët & Chandon also takes its time in the making, eight years in this case, with wider distribution just this year (2017).
The effort is the classic Champagne blend of 40% chardonnay, 37% pinot noir, 23% pinot meunier. Chard delivers acidity, citrus, and freshness; pinot noir provides body, structure, and berry notes; pinot meunier delivers white fruit notes, suppleness, and roundness.
Moët & Chandon is an iconic Champagne house that traces its roots to 1743 and founder Claude Moët. At that time, Champagne wine region was something of a backwater, the northernmost wine region in Europe, and the wine was thought inferior; it only later became the internationally recognized symbol of luxury, quality, and indulgence.
Significant credit for transformation from backwater to prominence goes to Claude Moët's grandson, Jean-Remy Moët, who marketed Champagne to the world at the end of the 1700s. As Moët's website asserts "The important figures of the era, from the Marquise de Pompadour to Talleyrand to Napoleon quickly fell in love with the House's effervescent wine. Moët & Chandon was soon the icon of success and elegance that it remains to this day."
The Marquise de Pompadour, mistress of King Louis XV, was a highly influential tastemaker. Her famous quote: "Champagne is the only wine in the world that makes every woman beautiful" refers to Moët. Napoleon visited the House several times and awarded Jean-Remy the Légion d'honneur, one of France's highest honors. Napoleonic troops invented the tradition of using a saber to open bottles of Moët to celebrate victory.
As you might expect, Moët & Chandon takes great pains to preserve and tout its association with success and prestige. Nothing wrong with that when you can back it up with 270-plus years of quality. Today, Moët & Chandon is the largest estate in Champagne with 2,840 acres of parcels on rich chalk soil; half are grands crus and one-quarter are premiers crus. The parcels are scattered among the five main areas of Champagne: Montagne de Reims, Côte des Blancs, Vallée de la Marne, Sézanne, and Aube.
Moët & Chandon 2008 Grand Vintage Brut is rich and round, plenty of white fruit and bread notes, another quality vintage effort from world-renowned maker. $75-85