Medium ruby color; spice, raspberry nose; raspberry, strawberry, cherry, blackcurrant on the palate.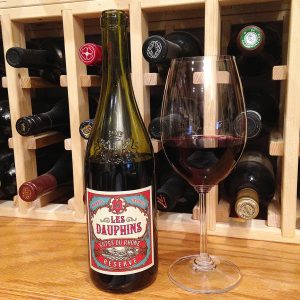 Light-medium mouth; light fruit-forward; dry; easy on the tannin and acidity (3.6 pH); easy drinker; GSM—70% grenache, 25% syrah, 5% mouvèdre blend. This certainly is not in the Châteauneuf-du-Pape league (not many wines are), but it is very affordable effort that will please your palate, even if it does not wow it. Clean fruit. Very nice label.
Les Dauphins created a collection of Côtes du Rhône Villages wines for the U.S. market. Beautiful, eye-catching labels. All the wines are made with certified organic grapes taken from vines in the southern Rhône with an average age of 30 years. The winery was named Rhône Winery of the Year at the New York International Wine Challenge in 2016 and Rhône Winery of the Year at the 2015 New York International Wine Competition. The Challenge and the Competition are different events, both are very influential in the wine trade, so clearly Les Dauphins is doing something right—this bottle has no big wow elements, but comes at a price that makes it an easy second bottle or relaxed salad and light fare drinker.
Grenache is the big note here. By several measures, the second-most planted grape in the world, also known as garnacha in Spain, but others note cabernet sauvignon and merlot may have overtaken the grape. Who cares? It is one of the big three of red wine grapes in the world. In France, grenache is most planted in Languedoc-Roussillon and adjacent southern Rhône, where this wine comes from.
Les Dauphins Côtes du Rhône Reserve 2015 is simple, grenache-based red wine that presents the southern Rhône in an affordable pour. Works well as a vin de pays. Tasty if not powerful; excellent value for price. $9-10