Deep yellow-gold color with hint of green; white flowers; pastry, yeast, walnut, hazelnut on the nose; pink grapefruit, pear, nectarine, peach on the palate.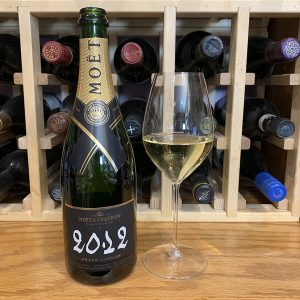 Extra brut; hints of fruity sweetness on initial attack quickly give way to classic acidity and dryness. Extra brut is drier than brut, but not as dry as brut nature (the driest sparkling wine can be). Mid-palate through extended finish dominated by the gentle but assertive acidity, dryness, and balance. Medium-full body; steady bead of bubbles; 12.5% ABV.
Vintage champagne; all grapes were harvested in 2012. Blend of 41% chardonnay, 33% pinot noir, 26% pinot meunier. Moët notes pinot meunier grapes were particularly outstanding in 2012. The pinot meunier excellence tipped the assemblage toward red grapes (59%) rather than the more common Moët & Chandon tilt toward chardonnay.
The year was a testing one—winter and spring frosts, torrential rains, hail, cold spell during flowering, followed by heat and drought in summer. Then came August hot and dry to reduce vine yields to only 40% of their 10-year average. Grapes were sweeter, more acidic, more concentrated than the 10-year average. All that combined to make an outstanding vintage—only in Champagne! Moët notes—comparable to outstanding vintages in 2002, 1989, and 1966. The house only produces vintage wines in such special years. The first was made in 1842; this is the 74th grand vintage since that year—170 years ago for the vintage.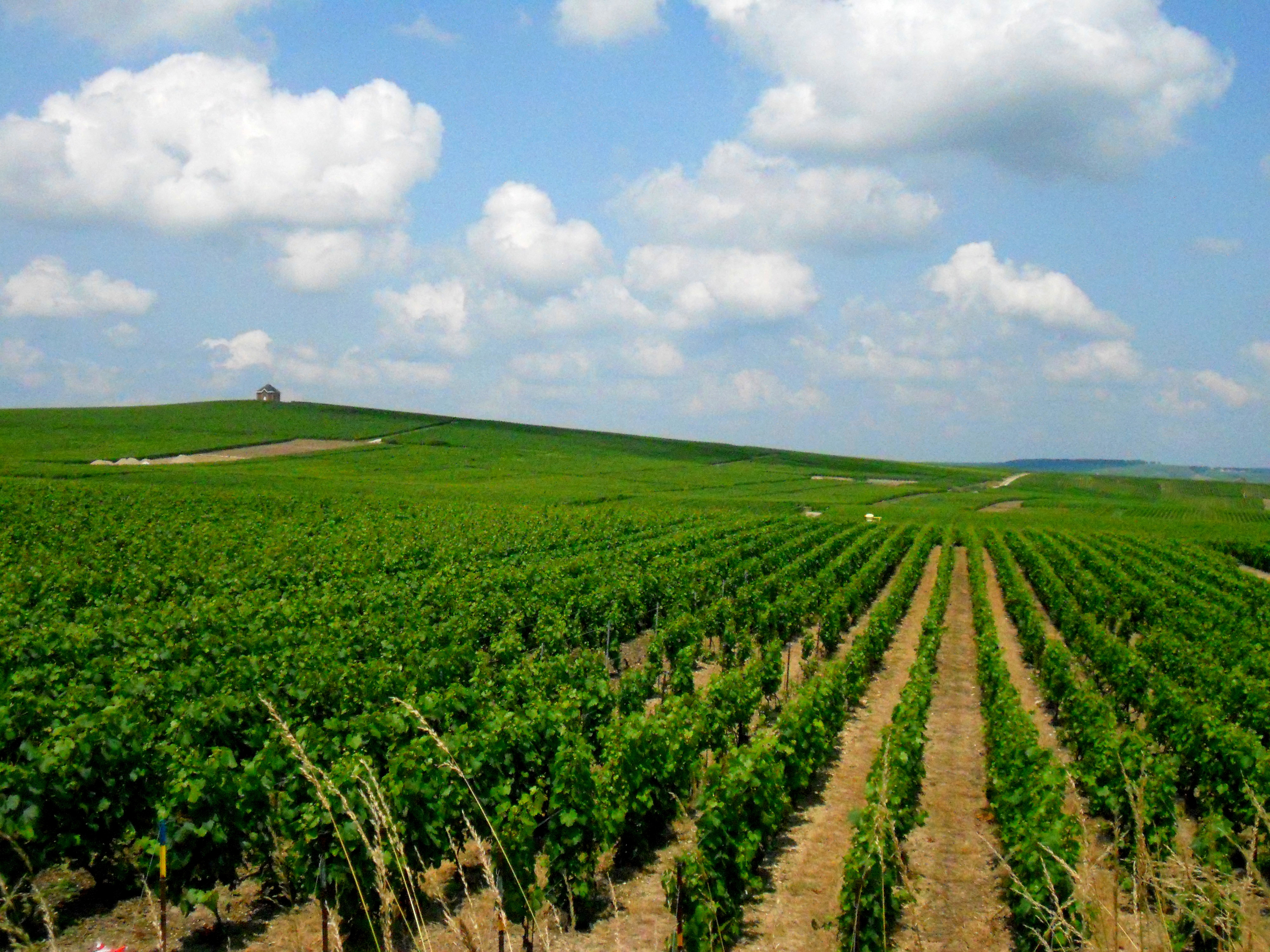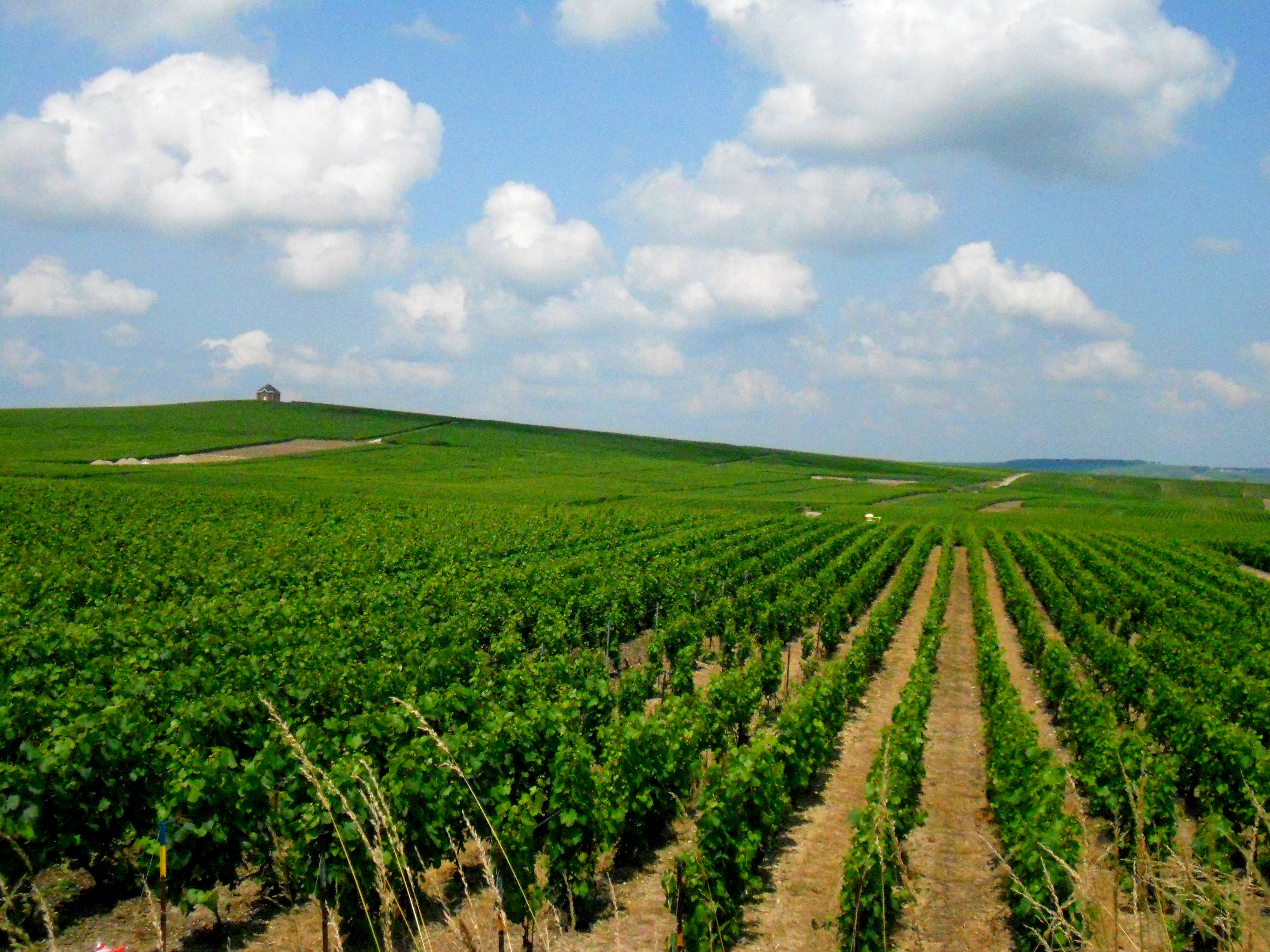 The Moët & Chandon name traces its roots to 1743 and founder Claude Moët. At that time, Champagne, the northernmost wine region in Europe, was something of a backwater, and the wine considered inferior. Only later did it become the internationally recognized symbol of luxury, quality, and indulgence.
Significant credit for the transformation goes to Claude Moët's grandson, Jean-Remy Moët, who marketed Champagne to the world at the end of the 1700s. Moët's website asserts: "The important figures of the era, from the Marquise de Pompadour to Talleyrand to Napoleon quickly fell in love with the House's effervescent wine. Moët & Chandon was soon the icon of success and elegance that it remains to this day."
The Marquise de Pompadour, mistress of King Louis XV, was a highly influential tastemaker. Her famous quote: "Champagne is the only wine in the world that makes every woman beautiful" refers to Moët's bubbly. Napoleon visited the House several times and awarded Jean-Remy the Légion d'honneur, one of France's highest honors. Legends claim Napoleonic troops invented the tradition of using a saber to open bottles of Moët to celebrate victory.
As you might expect, Moët & Chandon takes pains to preserve and tout its association with success and prestige. Nothing wrong with that when you can back it up with 277 years of quality. Today, Moët & Chandon is the largest estate in Champagne with 2,840 acres of parcels on rich chalk soil; half are grand crus and one-quarter are premier crus. The parcels are scattered among the five main areas of Champagne: Montagne de Reims, Côte des Blancs, Vallée de la Marne, Sézanne, and Aube. The chef de cave (maker of the wine) is Benoît Gouez. The wines age—more than five years in this case—in their massive caves underneath Épernay.
Moët & Chandon 2012 Grand Vintage Champagne is clean, fresh, juicy, complex, and harmonious. Superb acidity heralds this as excellent food wine. It may be too sharp on the initial attack for many people as an aperitif. With its price, bone dryness, and cutting acidity, wines like this fare better with seasoned bubbly drinkers. Pair with seafood—lobster is classic—smoked salmon, fried calamari, oysters, caviar; roast or grilled chicken; pork braised in Champagne vinegar; creamy risotto; quail; duck; various egg dishes—sriracha and wasabe deviled eggs, poached eggs with parmesan and smoked salmon toasts; brie-style cheese, goat cheese. $80-105