Deep ruby color; black cherry, plum, tobacco on the nose; ripe black cherry, black plum, blackberries, licorice, cranberry on the palate.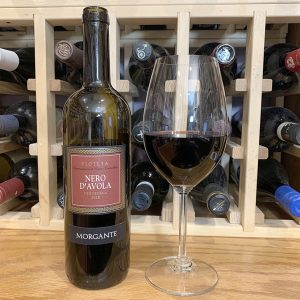 Dry; dusty, somewhat subdued but silky tannins; balancing acidity (3.5 pH). Medium-full body. Smooth and seductive after decanting, which rounds off the edges and earthiness rather than tames the tannins, which are smooth on the pop-and-pour. Fermented in stainless steel, finished in barriques for four months. Minimum oak influence, even after two years in French oak, which must have been used. Balanced, subtle structure, very easy drinker; 14.5% ABV. Very drinkable Nero d'Avola effort.
Nero d'Avola sometimes is called Sicily's cabernet sauvignon, other times Sicily's syrah. The grape falls between them, lacking cabernet sauvignon's higher tannins, lacking the heft of syrah. This is example of that. Delivers the warmth and depth of the two grapes. A delicious wine in its own right. As such, it particularly pairs well with red meats and tomato sauces. Typically very tasty—this certainly is an exemplar of that quality.
Morgante is distributed by the Winebox group, a very significant player. Their website notes: "The business of wine and spirits is ultimately about people. We value long-term relationships and are honored to have worked with some producers, customers and colleagues for decades. Our mission is to be the most sought-after national importer and distributor of fine wine and spirits from around the world. By offering a dynamic portfolio and a robust national platform, our team of dedicated specialists strives to be the best partner to our suppliers and customers."
Morgante Nero d'Avola Vendemmia, Sicilia 2015 is rich, smooth, easy drinker. Exactly the value and delicious assertive red wine you expect from a Nero d'Avola wine. Sicily's wonder. Classically pairs with rich, very meaty meats—oxtail soup, beef stew, for instance. Also simply seasoned grilled meats and vegetables; legume-based stews; seafood—yes, seafood. Pasta with tomato sauces. Versatile wine you should experience. $16-18
Winebow page for Morgante; nice videos