Pale yellow color; lemon, grapefruit, pineapple on the nose; citrus & tropical fruit, pineapple, lime, grapefruit, lemon, passion fruit on the palate.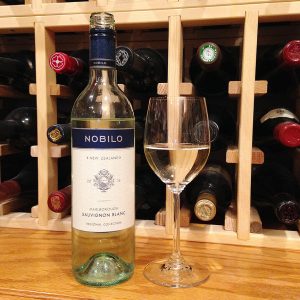 Medium body with very nice mouth feel; clean, crisp, with good acidity and flinty minerality; finishes with a taste of tomato.
Nobilo's story begins in 1936 when war clouds gathered and Nikola Nobilo immigrated from Croatia to New Zealand. In 1943, Nikola planted his first vines, drawing on more than three centuries of family wine making experience. Nikola was early advocate for premium varietals, pushing New Zealand wine makers to compete with the world. He also fought New Zealand's bizarre booze laws that prohibited wine being served with meals in restaurants (the United States does not have a monopoly on complete idiocy when it comes to alcohol-related laws).
In the 1970s, Nikola pushed New Zealand into focusing on sauvignon blanc and pinot noir and played a leadership role in developing Marlborough as a wine region. For his efforts, Nikola was awarded the Order of the British Empire in 1994.
David Edmonds maintains Nikola's tradition today, using grapes from Marlborough, Hawkes Bay, Gisborne and other regions; grapes for this effort came from Awatere and Wairau vineyards. Mega-wine company Constellation Brands owns Nibolo now, but regular readers know of my admiration of Constellation's penchant for allowing acquisitions to continue to do what made them attractive for them to be acquired in the first place. Fellow New Zealand Constellation brand Kim Crawford is another example. Nobilo is the best-selling New Zealand white wine in the U.S.
Nobilo Regional Collection Marlborough Sauvignon Blanc 2016 is the brand's entry-level sauvignon blanc; Icon is their flagship at about double the price. The case can be made you will enjoy the Regional Collection at least as much as the higher-dollar Icon. Both are delicious and expertly done Marlborough sauv blancs. Will pair especially well with seafood or lemon chicken. $9-11