Medium yellow color; lemon-lime, single blade of grass on the nose; lime, citrus, some peach, melon, gooseberry, passionfruit, pink grapefruit on the palate.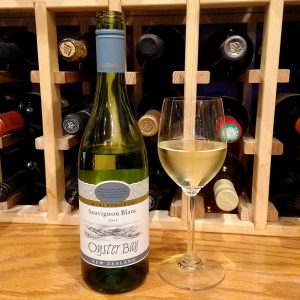 Dry; crisp, vibrant, clean easy drinker; excellent acidity (3.18 pH). Not sophisticated or deep, but harmonious NZ sauv blanc that delivers acidity and sharpness you expect from a Marlborough offering at this price point. Medium-light body. Serviceable commodity NZ sauv blanc, which is not intended as damnation with faint praise. Serviceable NZ sauv blanc is wonderful, food-friendly pour.
Oyster Bay is the top selling sauv blanc in New Zealand and Australia; some 170,000 cases are imported to U.S. (making it the top selling New Zealand sauv blanc in U.S.). Oyster Bay achieves remarkable quality for something made in such quantity. Oyster Bay is the label of the Delegat company, still entirely New Zealand owned. Delegat started in 1947 by Croatian émigrés Vidosava and Nikola Delegat. The compnay survived a major financial scare in the 1980s, and introduced the Oyster Bay brand in 1990 (after planting vineyards in 1988) to become among the first to take full advantage of the sauv blanc-Marlborough terroir boom. The name comes from Oyster Bay in Marlborough, on the tip of New Zealand's South Island; the dramatic winery sits in the Wairau River valley.
Oyster Bay Sauvignon Blanc New Zealand Marlborough 2014 is commodity New Zealand sauvignon blanc that will complement many foods. While not outstanding, it certainly is serviceable pour—you may not get effusive praise for the pour, but you are very unlikely to get condescending condemnation. Light and crisp, will pair with many foods, especially seafood, salads, other lighter fares, including lighter meats such as shrimp, chicken and pork, but summer salads likely the best. $12-15