Medium ruby-garnet color; cranberry, raspberry, blackcurrant, lavender on the nose; cherry, cranberry, strawberry, plum, black olive, raspberry, white pepper on the palate.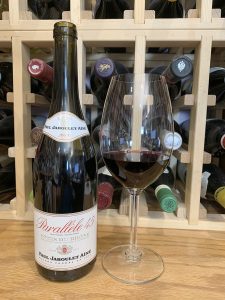 Dry; fine, smooth tannins and complementary acidity—no palate challenges with this GSM. GSM blend—55% grenache, 40% syrah, 5% mourvèdre, carignan, cinsault. Medium body, medium bold. Ripe fruits. Plenty of character and things to enjoy in this very entry-level offering from one of the most-esteemed wineries of the Northern Rhône.
Hints of garigue and licorice from mid-palate on, along with white pepper. All in keeping with a GSM profile. (Garigue is the scrubland of evergreen shrubs, low trees, bunchgrass in poor soils around the Mediterranean.) There is a balanced and interesting mix of power and fruit purity, especially for a GSM at this price point. 14% ABV (the tech notes say 13.5% and the label 14.5%, so I split the difference).
Paul Jaboulet Aîné has been a major maker in the Rhône since 1834. Antoine Jaboulet founded the company and his twin sons, Paul and Henri, expanded it. Successive sons ran the company until 2006 when Jean-Jacque Frey purchased it. Caroline Frey, Jean-Jacque's daughter, is the winemaker and viticulturist. A graduate of Bordeaux University, she instituted biodynamic practices and installed a new gravity-flow winery to evoke terroir and produce minimal impact on the environment.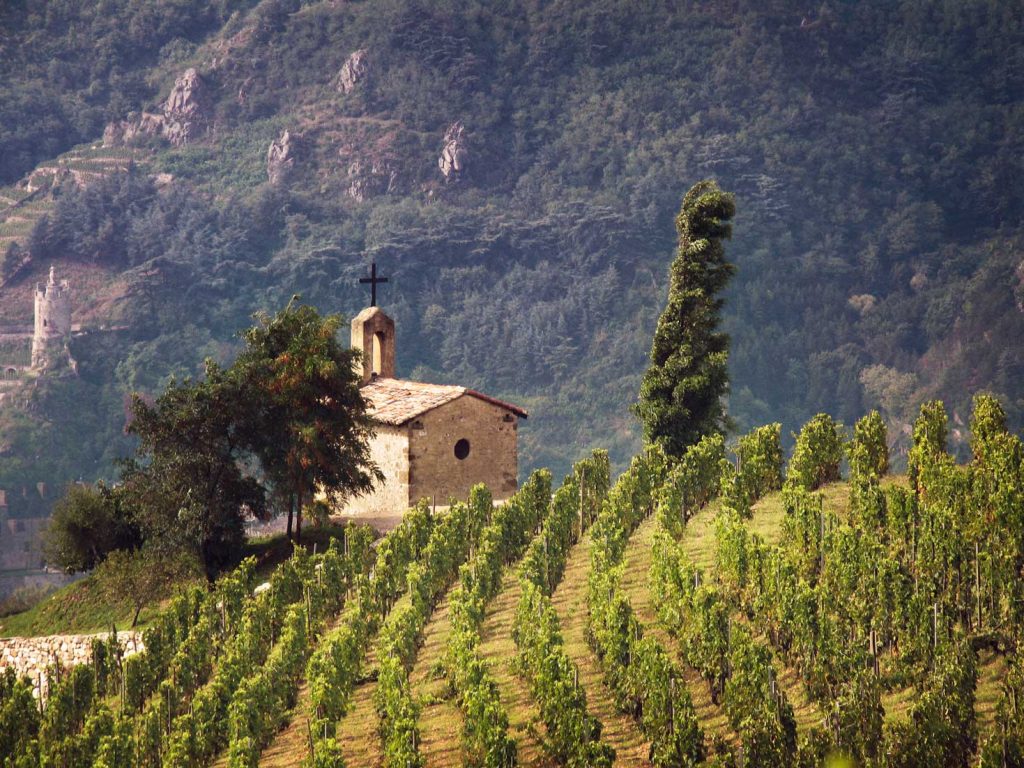 All the new stuff is well and good, but the soul of the Paul Jaboulet property is a small chapel perched on a vine-covered hill. Built in 1235, the chapel is surrounded by what many assert is the finest syrah vineyard in the world. It often is mentioned as one of the most iconic vineyard chapels in the world. You notice how [superlative] "in the world" comes up with this property. The world-exalted "Hermitage" wine gets its name from the hermit who lived in the chapel on the hill. There is great wine in the New World, but for magisterial stories you cannot top the Old World. You cannot top the chapel on Paul Jaboulet's property.
Paul Jaboulet Aîné Parallèle 45 Rouge Côtes du Rhône 2018 clean, fruit-forward, smooth easy drinking GSM from a top maker. This is Paul Jaboulet's entry-level pour, so do not anticipate layers and complexity, but it is enjoyable with tasty, inviting fruit. Superb QPR (price-quality ratio). Paul Jaboulet's Hermitage offerings sail well into the three-figure firmament; this can give you a foreshadowing while you wait for your bitcoin gamble to pay off. Pair with beef; lamb; wild game—venison; GSM pairs well with robust flavors, particularly with fatty steaks like ribeye, grilled and barbecued red meats; roasted chicken. Cheese— manchego, cheddar, smoke gouda, pecorino, asiago. $12-15
There is a website registered as www.jaboulet.com, but it did not function in my attempts