Deep yellow color; fresh herbs, citrus, peach on the nose; green apple, grapefruit, pineapple, lemon, minerality on the palate.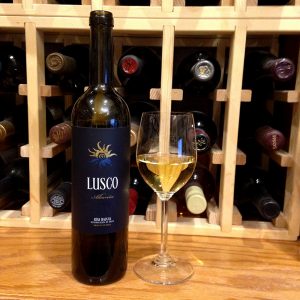 Dry; smooth, full, round in the mouth; excellent acidity (3.36 pH); herbaceous with tasty ripe fruit. No oak. Fermented in stainless steel, then remains in contact with the lees for six months to add depth, fullness, and complexity. Traces of classic hint of saltiness on the finish; that comes from Rias Baixas proximity to the Atlantic, although Pazos de Lusco is considered an inland vineyard; 13% ABV.
Pazos de Lusco is located in the southern part of Condado de Tea, less than 25 miles from the sea and a mile from the Portuguese border. A 16th century country home, Pazo Piñeiro is the heart of the 12.35-acre estate. "Lusco" means "sunset" in the local Galician dialect, and this wine has the color of early sunset, along with a mellow-in-the-mouth deliciousness. You could easily enjoy this wine watching a gorgeous sunset, especially if flowed into a seafood dinner. Albariño is a classic wine to pair with fish dishes.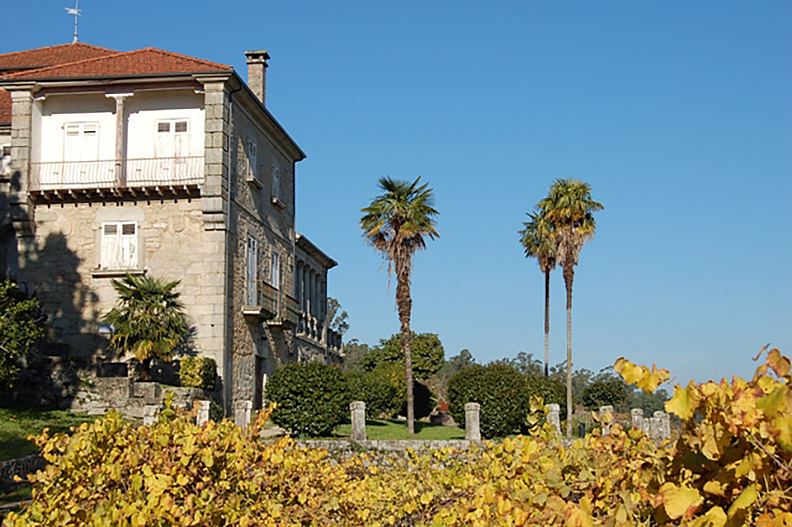 Pazos de Lusco calls itself an adega, an old Galician and Portuguese term for cellar, winery, shed or outbuilding. It is a doublet of "bodega" and "botica", so—in rough terms—it means boutique winery. Grapes are grown on traditional pergola system: the vines grow horizontally above the vineyard workers, not vertically next to them.
Rías Baixas is one of the leading white wine producing regions in Spain and the only Spanish DO for white wine; albariño wine accounts for some 90% of the vines in Galacia. Rias Baixas is known for whites in similar way Rioja is famed for Spanish reds. The region is known for its granite soils and high winds. The stoney soil, wind, and cool temperatures help deliver wines with fresh acidity and minerality. This effort showcases those characteristics.
Albariño is a small, thick-skinned grape that resists fungal disease, important because of the heavy rainfall in Rías Baixas. The grape is low yielding and expensive to cultivate because of the pergola (parra) system for training vines. The Rias Baixas region hugs the border with northern Portugal. Across the border, the grape and wine is called "alvarinho". The grape also is the principal grape used in vinho verde wines. Spanish and Portuguese efforts are superb alternatives to sauvignon blanc, pairing with the same foods and offering similar profiles while still being different.
Pazos de Lusco Albariño, Rias Baixas 2016 is full-bodied for an albariño, a characteristic of inland grapes. Fresh and complex; soft and refined; delicious easy drinker. Pair with almost all seafood and fish; shellfish; lobster; scallops; grilled fin fish; grilled calamari; Spanish seafood paella (see video link below); light meats including pork tenderloin. Can easily be enjoyed as an aperitif or with light hors d'oeuvres, especially ones featuring fish and/or feta, brie, camembert, gruyere aged manchego and similar cheeses. If you have not yet tried albariño/alvarinho, you are missing out on one of the exquisite experiences in the wine world. $21-25
Rias Baixas website; Pazos de Lusco page
Nice video on how to make Spanish seafood paella